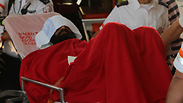 Doctors at Brazilai medical center in Ashkelon ceased anesthesia treatments for hunger striking administrative detainee Mohammed Allaan on Tuesday, allowing Allaan to regain consciousness and communicate his refusal to leave the country as a term of his release as stipulated by the state.

Allaan, an alleged Islamic Jihad member, has been on hunger strike over two months in protest against his administrative detention, and has been under the close watch of medical staff, while receiving only essential treatments.

Allaan's lawyer, Jawad Bolus, who is currently at Barzilai on behalf of the Palestinian Prisoner Ministry, said upon leaving Allan's room that, "He is still weak and tired, but is aware of his decisions. He had difficulty speaking and the conversation was slow. He is in life threatening condition. He notified the doctors that he wished to continue his hunger strike, come what may. He also asked to stop receiving fluids, vitamins, and medication intravenously. The staff explained to him that this decision would possibly lead to his death.

"I asked him to give us a chance to try and solve the problems, but he wanted things to remain the way they are until tomorrow morning. If things don't change by then he has asked that all treatment be stopped," Bolus concluded.

Bolus emphasized that Allaan is refusing the state's offer to free him if he leaves the country for four years. "He wants to be released from his administrative detention," he said. "He refused the offer on all its bases. Not even one day abroad. He wants to be freed and go home."

Allaan's doctors had already begun reducing the quantities of anesthesia in his system yesterday, and are now trying to completely wean him off the anesthetic medicine.

Concurrently, an appeal has been filed with the High Court of Justice demanding Allaan's release, with a decision yet to be handed down.

In a discussion yesterday, before Allaan returned to consciousness, Justice Hanan Maltzar had said that, "As of now the threat posed by Allaan has been neutralized, and as such the change of status warrants on the continuance of his administrative detention. If he wakes up, heals, and reverts to terror – the administrative detention could be renewed."

Allaan who has been on hunger strike for 63 days, lost consciousness last week, and started experiencing seizures and hallucinations. As a result, the medical staff at Brazilai began introducing life saving treatments for the first time since his initial hospitalization.

Alan, a resident of the village of Inbas near Nablus, was arrested on the fourth of November last year, and according to his lawyer, he is suspected of ties to terror organization.