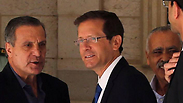 Herzog in Ramallah
Photo: AFP
Opposition leader Isaac Herzog (Zionist Union) met with Palestinian President Mahmoud Abbas in Ramallah on Tuesday, where he expressed concern a third intifada could erupt amid increase of tensions in the West Bank.
Tensions have been high since a July firebombing attack by suspected Jewish extremists in the West Bank last month killed an 18-month-old Palestinian toddler and his father. Since then, there have been a series of Palestinian stabbings and a firebombing on Israelis, and three suspected attackers shot dead.
Herzog speaks to reporters after Abbas meeting (צילום: אלי מנדלבאום)
Addressing reporters in Ramallah, Herzog said he and Abbas held an "in-depth" discussion that lasted more than an hour.
He said both men agreed on the need to calm the deteriorating situation and prevent a new intifada, or Palestinian uprising, from breaking out.
"We first and foremost must prevent a third intifada and we have agreed that in order to prevent a third intifada we must combat terror on the one hand aggressively, and on the other hand move toward a diplomatic process," he said.
Preventing another violent uprising in the West Bank "means an uncompressing war against terrorism, and on this issue I am more extreme than Netanyahu," the Zionist Union leader said.
Israel and the Palestinians have held on-again, off-again peace talks over the past two decades but have never managed to agree on a final deal. The most recent round of talks, brokered by US Secretary of State John Kerry, broke down more than a year ago and show no signs of restarting.
"We must ignite the process yet again and give it another effort," Herzog said.
Herzog asserted that Israel and the Palestinians could negotiate a peace agreement in two years, noting he would continue "trying to convince the public in Israel of the need for a diplomatic process."
"We must not miss this opportunity, which offers the backing of neighboring countries for a direct diplomatic effort between us and the Palestinians," he added.
While the Israeli military does not expect the situation to deteriorate into the heavy fighting that characterized the two previous Palestinian uprisings, there are concerns on both sides that things could worsen.
Abbas did not join Herzog during his address to reporters. But in a statement, the Palestinian leader, an outspoken critic of violence, affirmed his commitment to reaching a peace deal with Israel.
It was Abbas' first meeting with Herzog since Israeli elections last March. Tuesday's meeting appeared to be an effort by Abbas to reassure the Israeli public that he is trying to preserve calm.
Abbas' forces have arrested or questioned dozens of members of the rival Hamas militant group in recent weeks, according to Hamas.
Aides to Abbas say the Palestinian leader has grown frustrated over the dire state of peace efforts and is considering resigning. But the 80-year-old Abbas has made similar threats in the past.
His aides say Abbas is especially concerned about reports that Israel has been holding secret contacts with Hamas, which controls the Gaza Strip. Abbas fears that such contacts could lead to an accommodation between the bitter enemies that could hinder future peace efforts by solidifying Hamas' hold on Gaza.
By meeting the Israeli opposition leader Tuesday, Abbas appeared to be trying to send a message that Netanyahu - not the Palestinians - is preventing peace efforts from resuming.
The Associated Press contributed to this report.