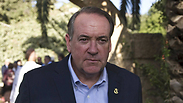 Republican presidential candidate Mike Huckabee reiterated Israel's connection to Judea and Samaria, and stated that peace cannot be possible with ongoing incitement in Palestinian schools, during a special interview with Ynet on Wednesday.

Huckabee is visiting Israel in the middle of the race for the Republican nomination for president. He visited the settlement of Shiloh on Tuesday stating that, "Shiloh was the capitol of Israel 3,500 years ago, to say Jews have no connection to Shiloh is bizarre. If you're going to visit Israel, you should visit all of Israel and that would include Judea and Samaria."

Huckabee at Ynet (צילום: אלי מנדלבאום ניר כהן ניצן דרור)

Huckabee reiterated his statement in his interview with Ynet Wednesday saying, "Jews have a stronger connection to Shiloh than Americans do to Manhattan."

Huckabee said that he has been coming to Israel for 41 years, and views the relations between the US and Israel as organic and not political, promising that as president he would, "Always make sure the US stood by its ally Israel."
Israeli-Palestinian Peace
When prompted on the matter of the peace process, Huckabee asserted that a real peace could not exist so long as, "one of the sides acknowledging Israel's right to exist." He continued to state that a major problem in achieving peace lay in the ongoing incitement within the Palestinian school system, "You can't have Palestinian kids learning to hate Jews in school."

Huckabee dismissed criticism of Israel's settlement policy, saying, "I would love to see a true peace in the world, but the question is does Israel have a right to build bedrooms for the expanding number of people who are coming here, who are making aliyah, to make sure there people have a secure land they can defend; I don't know why anyone on this earth would think that they should surrender that right."

He also added that previous attempts at withdrawing from territory had failed, saying, "Land for peace has not worked for Israel, They lose the land and they lose the peace."

Huckabee in Shiloh

Asked whether he would move the US embassy from Tel Aviv to Jerusalem, he stated that, "I think it's the capitol designated by the Israeli government and the us should respect that. We don't insinuate that the Israelis have their embassy in new York or los Angeles; they put their embassy where the us capital is. Last time I checked, and I have been here many times in the past 40 years, the Israeli seat of government is in Jerusalem so it make perfect sense that the embassy be in Jerusalem."
Iran Deal
On the issue of the Iran deal and Prime Minister Benjamin Netanyahu's alleged interference in American political affairs, the presidential hopeful said, "Well, the Prime Minister of Israel is not endorsing any candidate, but I don't hesitate in endorsing his actions in protecting Israel, I support his bold actions."

The frequent visits by Israeli Ambassador to the US Ron Dermer don't faze Huckabee, as he puts it, "What is the purpose of the ambassador if not to present the interests of the country which he represents?"

"An American ambassador goes abroad not to have a nice social relations with the people of that country but to advance US policy," he concluded.

Huckabee dismissed the representation of Israel and the US as being a family feud, "Generally Americans are supportive of Israel and understand the relations we have. I don't see this as a family fight, more like a dispute with members of this administration who will only be in office for another year and a half."

Huckabee added that he believes an overwhelming majority of Americans are against the Iran deal, saying that he "Hoped more and more members of congress would go home and listen to the overwhelming portion of the population which elected them."

On the content of the deal he added, "The US and Israel have vowed to prevent Iran from obtaining a nuclear weapon. This is a terrorist state, and we are empowering and enriching them through this deal, by unfreezing $150 billion in assets which they will use to buy conventional weapons." According to Huckabee, if Israel feels the need to strike Iran, "Israel has the power to make that decision they don't need my assistance or approval to pursue whatever makes them safe."