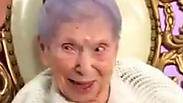 Goldie Steinberg
Photo: Halftime Howie
Two months before her 115th birthday, the world's oldest Jewish woman, Goldie Steinberg died this week in Long Beach, New York. She was born on October 30, 1900, in the city of Chisinau (Kishinev), the Russian Empire.
Steinberg was not only the world's oldest Jewish woman, she was also the oldest person born in the Russian Empire, and the second oldest person living in the United States, and is survived by four grandchildren and seven great-grandchildren.
Interview with Goldie Steinberg
Chazkel and Dvora Garfunkel had eight children, including Steinberg. By the age of five her life had been saved twice: in 1903, the notorious Kishinev pogrom occurred, when the body of a Christian boy was found and the Russian Orthodox Church falsely accused the Jews of the murder to use the boy's blood to bake matzos, and two years later, when another massacre occurred in Kishinev. Goldie was, in fact, the last survivor of these two massacres.
The secret of longevity: kids
When she was 23, she moved to New York in the United States like many Jews who were fed up with Russia after the revolution of 1917. Reizel and Sarah, her two sisters, emigrated with her. The three sisters lived in Brooklyn, at the home of their uncle Max Garfunkel.
In 1932 she married Philip Steinberg, a Jewish jeweler from Kishinev, who also immigrated to the land of unlimited possibilities. The couple had two children: Don Sargent and Ann Teicher, and they lived happily together until Philip's death in 1967.
In honor of her 114th birthday a big party was held in the nursing home in Long Beach, New York, where she lived. Steinberg said that her life was full, and among her hobbies she listed watching the New York Yankees baseball team, knitting, and helping her neighbors.
She also said that since 1924, she voted in 23 elections. When asked what her secret was for a long and healthy life, she replied, "My children have kept me alive." When an American radio broadcaster wished her many more birthdays, she replied, "No, no, please God no."
She was a history lesson
Peter Kutner, Goldie Steinberg's grandson, told Chabad.org that she worked as a curtain and dress seamstress until her retirement. At the age of 104 she decided to move to the nursing home in Long Beach.
"My grandmother's life, surviving the pogroms, losing siblings in the Holocaust, it was a history lesson. She was a very selfless person; she always thought of others. She lived on her own in Bensonhurst until she was 104 and refused to move in with my mother because she didn't want to be a burden on her. That tells you something about her."
Kutner says that on the day his grandmother died, he received a phone call from the doctor at the nursing home, who told him that his grandmother felt ill. He traveled with his wife and his 73-year-old mother to take leave of her with other family members. Goldie spoke to those who couldn't make it to the nursing home on the phone.
"After she spoke with my cousin Stephen, and hung up the phone, we saw that she had passed away. She waited until she parted form the last relative."