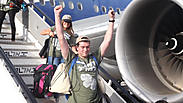 Olim from Nefesh B'Nefesh flight
Photo: Motti Kimhi
Tears flowed freely at New York's John F. Kennedy International Airport on Monday when 59 lone soldiers, 29 families, 75 children, and 86 singles looking for their true match all said goodbye to everything they know and boarded a plane for Israel and a new life.

"My dream is to join Shayetet, Israel's elite navy commandos, and to find belonging in Israel," said Aaron, a young immigrant from the US just before his flight to Ben Gurion International Airport that landed Wednesday morning.

Jeremy Weinstock, Adina Karfoch, Michal and Obi Jacob and 229 others joined together and sang Israel's National Anthem HaTikvah before take off from New York on their special 10 hour flight of new immigrants. Upon arrival some kissed the holy land.

There were many partners associated with this special flight: Nefesh b'Nefesh (NBN), a nonprofit organization that promotes and facilitates aliyah, in cooperation with the Ministry of Immigrant Absorption, the Jewish Agency, the Jewish National Fund, JNF-USA and the Sabra group of the Israeli scouts. The olim were greeted by hundreds of soldiers, family members and adopting families.

Olim from Nefesh BNefesh chartered flight (צילום: ליאור פז)

"I feel the need to be a part of defending the Jewish people," said Weinstock, 18, from Illinois, who will be serving in the elite Duvdevan special operations force. He says he found it hard to be on the other side of the world, when his peers were endangering their lives defending the homeland.

"My family has been very supportive throughout. They even told me, go to Israel and don't come back," he said with a smile. "When I was a kid I stayed in the country for four months, and since then I've wanted to return. My parents will not follow me, but I'm not worried. I have pushed several friends to make aliyah with me."
'Israeli men are the most eligible'
There was even a Torah scroll on the aliyah flight. Harold Bornstein grabbed the scroll wrapped in a prayer shawl from the moment he entered the airport until boarding the flight, while his wife Lea stuck to his side. "This is the family's Torah scroll from which we read in the synagogue in New York," he says excitedly. "Now, we will be reading from it in the synagogue of our new neighborhood "Hadekel" in Efrat, a West Bank settlement south of Jerusalem.
Elah Dahan, 18, about to join the IDF, walked aroung JFK airport wrapped in an Israeli flag. Her mother's face brimmed with excitement and pride. "I wish she would find a groom in Israel," she said with a smile. "Israeli men are the most eligible."
Elah is not the first of her family to immigrate to Israel to serve in the IDF. Her older brother served during Operation Protective Edge on the Gaza border. Elah indicated that she is proud of him and sees him as a role model..
Yuval Harari, a son of former Israeli parents, was also on the flight planning to join the IDF, in the footsteps of his older brother, Eitan, who was released just over a year ago. "I'd trade places with him right now, and start all over again," said Eitan in New York, just before he left his brother, but not for long. Next week he'll be on a plane to do five days of reserve duty, and he is looking forward to see his combat friends, some of them wounded in the recent operation in Gaza. He intends to settle in Israel immediately after graduation.
"This is the happiest day of my life"
The olim were welcomed with a festive ceremony at Terminal 1, with the participation of hundreds of family members, friends and soldiers waving Israeli flags. The olim received their immigrant certificates from Construction Minister Yoav Galant, Jewish Agency Chairman Natan Sharansky and the founders of Nefesh B'Nefesh Rabbi Yehoshua Fass and Tony Gelbart.
One of the olim, Sari Friedman, reunited with her soldier son, Michael Salaverry, who made aliyah two years ago and is serving in the paratroopers. "Now Mom has joined me," he said emotionally. Choked with tears, Friedman said that this was the happiest day of her life. "I am very excited and am about to faint. I am very glad, happy and this is one of the most important and exciting moments of my life."
Avioz Hanan, Gina Thomas, Yarden Avnor, and Aaron Vander are soldiers-to-be While Avnor will join the Havat Hashomer base, Hanan, Vander and Thomas promise to try to get accepted to the most elite units.
"I dream of joining the Oketz Unit, the canine special forces unit, said Thomas. Hanan, who was born in Israel and moved when he was 4 said, "I still do not know where to enlist, but I want to be an elite unit." Vander's dream is to join the Shayetet, the elite navy commandos.
Idan Raichel surprised the new olah
For Adina Karfoch, 19, this was a defining moment. "I've been fantasizing about making aliyah since I was a little girl," she said beaming. "But my heart will not let me live in and enjoy Israel without first enlisting in the IDF." She intends to serve as combat paramedic.
Karfoch's family emigrated to Atlanta from Chile 15 years ago, but she says "it's only a matter of time" until her parents and older sister join her in Israel."
"There are scary things in every country," said her parents, Mario and Hanna, in response to a question that concerns every parent whose child is about to enlist. "But if you already are in place that is potentially dangerous, it is better to be in a position of defending our country, our home."
What Karfoch did not know about was the surprise that was prepared for her and her fellow olim. She is a big fan of singer Idan Raichel, and knows his songs by heart. Nefesh B'Nefesh told this to Raichal, and he was moved and decided to appear voluntarily, together with his band, at the reception ceremony, and he personally gave Karfoch her immigration certificate.
Raichel told Ynet that he was excited to see the dozens of lone soldiers. "Judaism in Israel leans on Diaspora Jewry, and we should acknowledge it. It is amazing to see them so motivated to make aliyah and join the IDF."
Aliyah around the clock
It has been nearly 13 years since Nefesh B'Nefesh (NBN) has been involved in the aliyah process. To this day, it has helped up to about 45 thousand olim from the US, including 5,000 soldiers and hundreds of doctors and educators. The organization helps them get through the bureaucracy and even find employment in Israel.
NBN indicates that by the end of the year more than 4,000 olim are expected from North America and Canada. "The olim joining the IDF are the source of our pride and of that of all the people of Israel," said Rabbi Yehoshua Fass, founder and CEO of NBN. "The soldiers are a symbol of heroism, Zionism and devotion to the state in which they chose to build their lives."
Jewish Agency Chairman Natan Sharansky said that despite the security challenges, there has been an increase in the interest expressed by Jews to immigrate to Israel. "Jews come to Israel not because it is a shelter, but because it is a magnet for those seeking a meaningful Jewish life, liberty, personal security and satisfaction take part in Jewish history."
Moshe Glantz and Itamar Eichner contributed to this report.