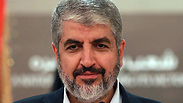 Israeli-Hamas negotiations for a long-term ceasefire deal look "positive," the group's political chief Khaled Mashal told London-based publication Al-Araby Al-Jadeed on Friday.

Mashal's confirmation and optimistic view of the talks went against Israel's recent denials that any such talks were underway, either directly or through back channels and mediators.

"Without a doubt, the ball is in Israel's court," Mashal told Al-Araby from Doha in Qatar. "The calm and cease fire were announced last year, but Gaza's residents can't be satisfied with this solution when they're dying a slow death.

"It's in everyone's interest to solve the problems in Gaza," stressed Mashal.

The Hamas leader also said that the organization would like to convene with the leaders of the Palestinian Authority and Islamic Jihad to discuss the proposals he claims were presented to Hamas by Israeli authorities.

When asked if a permanent cease fire would bring an end to "opposition actions," Mashal responded, "The cease fire is connected to action in Gaza and is limited to a geographic area but there is no agreement in the West Bank."

Israel's actions in the West Bank, according to Mashal, are overtly aggresive. "They have prisoners suffering in prison. All of the reasons exist for resistance in the West Bank," said Mashal, also citing reoccurring clashes at the Temple Mount.

"We don't need calm or a long-term cease fire," said Mashal. "We don't want and don't strive for war, but there is legitimate opposition that will remain against the occupation as long as there is an occupation and settlements."

Mashal rejected claims by other Palestinian factions, chief among them the PLO, that Hamas is attempting to form a separate state in Gaza through indirect talks with Israel. "The Gaza Strip and the West Bank are one unit," he said. "Hamas is not competing with anyone and is not attempting to form a separate authority."