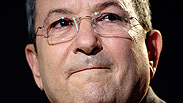 Barak: Possibility of attack against Iran raised three times, and blocked
In new book, former defense minister says he, Netanyahu and Lieberman sought to strike Tehran's nuclear facilities between 2010-2012, but that attempts were blocked by former IDF chief Ashkenazi and ministers Ya'alon, Steinitz.
Former defense minister Ehud Barak says in a new book that Israeli plans to attack Iran's nuclear facilities were blocked on three separate occasions between 2010-2012, first by Israel's military chief and later by two ministers.

Channel 2 TV aired a recording of Barak's remarks on Friday, made in an interview for a new book about him. Channel 2 said the former minister tried to prevent the broadcast but that Israel's military censor allowed it.

In the recordings, Barak says that in 2010, he, Prime Minister Benjamin Netanyahu, and then-foreign minister Avigdor Lieberman sought to bring the discussion of a possible attack against Iran to the entire cabinet, and consulted the matter with IDF chief of staff at the time, Gabi Ashkenazi.

"The answer was not positive; we could not get the combination of words out of them… You can't go to the Cabinet and then have the chief of staff come and say, 'Excuse me, I told you no,'" Barak says in the recording.

The report comes amid Israel's intense lobbying against the nuclear deal between Iran and world powers that would see Tehran's nuclear program rolled back in return for sanctions relief.

According to the report, that same year a large meeting was convened at Mossad headquarters regarding an attack in Iran, and Netanyahu and Barak felt they had a majority with which they could come to the octet and then the government, including the support of ministers Moshe Ya'alon and Yuval Steinitz. However, during the meeting it turned out this was not the case.

"A year later, the chief of staff is Gantz, he says 'there are capabilities (to launch such an attack), you know all the limitations, all the risks,'" Barak says,

"Bibi, myself and Lieberman support it and (believe it's) time to go and present it to the octet... Bibi was supposed to make sure in long conversations with Ya'alon and Steinitz what their positions were and then at a certain point of consultations between us, Bibi said 'They support it, it's okay,' and then we convened a meeting of the octet about this thing because in principle, the fact the capability (to attack) is there was something we already knew, despite the risks."

During the meeting, however, Barak and Netanyahu learned that Ya'alon and Steinitz opposed an attack on Iran.

According to Barak, the military rank explained during the meeting that even though the IDF is capable of launching such an attack, it was a difficult operation to mount.

"When the chief of staff says 'there's capability,' he doesn't mean 'guys, this is a game, a walk in the park.' No - he presents all the issues, all the difficulties, all of the complications, all of the complexities and the problems, including the possibility that there might be casualties - these things are not completely surgical. And you saw how right in front of our eyes both Minister Moshe Ya'alon and Steinitz were backing away," Barak recounts.

"You see their reactions about questions raised. Either Bibi didn't do the prep work, or he incorrectly assessed what supporting it looks like. But these are the same ministers Ya'alon and Steinitz that today if you ask the public, they're the most militant about attacking Iran. If they hadn't changed their minds, there would've been a situation of a five or six majority inside the cabinet that believe it can be done and then we might have convened the cabinet to make a decision and then we could've attacked."