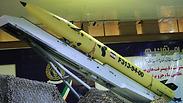 DUBAI - Iran on Saturday unveiled a new surface-to-surface missile it said could strike targets with pin-point accuracy within a range of 500 km (310 miles) and it said military might was a precondition for peace and effective diplomacy.
The defense ministry's unveiling of the solid-fuel missile, named Fateh 313, came little more than a month after Iran and world powers reached a deal that requires Tehran to abide by new limits on its nuclear program in return for Western governments easing economic sanctions.
According to that deal, any transfer to Iran of ballistic missile technology during the next eight years will be subject to the approval of the United Nations Security Council, and the United States has promised to veto any such requests. An arms embargo on conventional weapons also stays, preventing their import and export for five years.
Fateh 313 missile presented in Iran (צילום: רויטרס)
But Iran has said it will not follow parts of the nuclear deal that restricts its military capabilities, a stance reaffirmed by President Hassan Rouhani on Saturday.
"We will buy, sell and develop any weapons we need and we will not ask for permission or abide by any resolution for that," he said in a speech at the unveiling ceremony broadcast live on state television.
"We can negotiate with other countries only when we are powerful. If a country does not have power and independence, it cannot seek real peace," he said.
The Fateh 313 is the 6th generation of the solid-propellant Fateh-series SRBM, which are considered the most accurate Iranian missiles.
According to reports in Iran, the new missile is made of composite materials, making it lighter in weight than previous versions. It also uses synthetic fuel and is fitted with new sensors.
The defense ministry said the Fateh 313, unveiled on Iran's Defense Industry Day, had already been successfully tested and that mass production would start soon.
Threats
Iran has one of the largest missile programs in the Middle East. It wants to export arms to its allies in the region and import anti-missile systems to prevent any possible attack by its arch-foe Israel.
"In our aerospace industry we have various ballistic missiles with different ranges under production," Defense Minister Hossein Dehghan said on Friday.
"We will continue this path with maximum power in line with our defensive needs and proportionate to threats ahead of us."
Fars news agency, which is close to the country's Revolutionary Guards, released a music video on Saturday praising Iran's missile capabilities. It contained pictures of what the agency called a new and unknown missile of the Islamic Revolutionary Guards Corps (IRGC).
A senior IRGC commander said on Friday Iran would hold a large ballistic missile manoeuvre in the near future.
"Some wrongly think Iran has suspended its ballistic missile programs in the last two years and has made a deal on its missile program ... We will have a new ballistic missile test in the near future that will be a thorn in the eyes of our enemies," the commander of the aerospace division of the IRGC, Brigadier General Amirali Hajizadeh, said on Friday.
In the past, the Israeli Air Force was attributed with an attack on a shipment of Fateh 110 missiles on their way from Iran to Hezbollah.
At the end of last year, senior Hezbollah officials and senior officials in the Iranian Revolutionary Guard Corps spoke a lot about the advanced surface-to-surface missiles Iran provided Hezbollah with, that would allow the Lebanese terror organization to accurately hit targets all over Israel. It is believed the model in question was the Fateh 110.
Earlier this year, Hezbollah leader Hassan Nasrallah claimed that his organization has had Fateh 110 missiles that can reach Tel Aviv since 2006.
While the new model's range is much bigger than that of the Fateh 110, Iran has repeatedly exaggerated the capabilities of the new arms it presented.