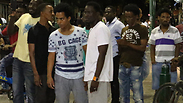 While some 1,200 African asylum seekers are due to be released from Holot this week, courts approved Sunday a plan drafted by Public Security Minister Silvan Shalom denying them entrance to Tel Aviv or Eilat.

Holot, an "open" detention facility where asylum seekers are held without trial, is due to be emptied according to a Supreme Court decision that limits the amount of time an individual can be detained.

The ruling angered residents of southern Tel Aviv where locals have felt the brunt of Israel's African immigration crisis with tens of thousands of illegal residents remaining in the area.

Eilat has also been a central destination for those arriving from across the Egyptian border with 10 percent of its population currently made up of illegal immigrants and asylum seekers.

In accordance with Shalom's plan to implement the ruling, 600 of Holot's detainees are due to be released on Tuesday and another 600 will follow on Wednesday.

The restriction on movement will be enforced by distribution of special visas to the released asylum seekers. Those caught by authorities in Tel Aviv or Eilat will be removed to Saharonim Penitentiary. It was unclear Sunday how long the asylum seekers could legally be held under these circumstances.