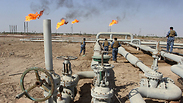 Israel has reportedly purchased as much as 77 percent of its oil supplies from Iraq's semi-autonomous Kurdish population, providing them with an essential source of funding in their campaign against the Islamic State, a new report in the Financial Times revealed on Monday.
The sales are a sign of Iraqi Kurdistan's growing assertiveness and the further fraying of ties between Erbil and Baghdad, which has long harbored fears that the Kurds' ultimate objective is full-scale independence from Iraq.
The Financial Times cites shipping data, trading sources and satellite tanker tracking, saying Israeli refineries and oil companies imported more than 19 million barrels of Kurdish oil between May-August.
"This would be worth almost $1bn based on international prices over the period," the FT report stated. This vast quantity of oil makes up about 77 percent of Israeli oil usage, amounting to about 240,000 barrels a day.
Kurdish oil is exported through the Turkish port of Ceyhan, of which about one third of shipments were headed to Israel. Many industry experts suggested that upon arrival in Israel, the oil is both stored in containers and re-sold abroad.
These industry officials also suggested the Kurds may be selling the oil to Israel at a discounted price, but Kurdish authorities have denied this claim outright.
The oil revenues have provided essential funding to the Kurdish authorities in Erbil, with some reports suggesting that the deals may be a way for Israel to discreetly supply funding to the Kurdistan authorities.
While the Kurdish government has denied the sales, the ties between the Kurdish people and Israel are no secret, with the two sharing mutual interests as western backed non-Arab states.
"We do not care where the oil goes once we have delivered it to the traders," a senior Kurdish government adviser in Erbil said.
Female Kurdish fighters against ISIS ( )
The sales to Israel highlight a larger rift between the Kurdish capital of Erbil and Baghdad, which like many other Middle Eastern capitals, refuses to recognize Israel and has no official ties with the country. The US, in contrast, has urged Erbil to work with Baghdad on oil sales, discouraging independent Kurdish oil sales.
A report in Reuters last month quoted an official as saying that Israel was set to receive its first oil shipment from the Kurds as part of a larger strategy to strengthen ties with the Kurdish region.
Trafigura, which was identified as a major trader of Kurdish oil last year, did not comment.
Financial Times and Reuters contributed to this article.