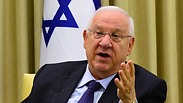 President Rivlin
Photo: Kobi Gideon, GPO
President Reuven Rivlin said during talks with settler leaders on Monday that Israel had a "right" to build settlements in the West Bank, his office said in a statement.
"I love the land of Israel with all my heart. I have never and will never give up on this land. For me, our right to this land is not a matter of political debate. It is a basic fact of modern Zionism," Rivlin said,
For Rivlin the "land of Israel" includes the West Bank, where Jewish settlements are considered illegal under international law.
"We must not give anyone the sense that we are in any doubt about our right to our land. For me, the settlement of the land of Israel is an expression of that right, our historical right, our national right," Rivlin said.
"I have no doubt that it is clear to all of us, that in order to realize the ultimate goal of building the land of Israel, we must be sure to do so only with the use of the legal tools available to us. Our sovereignty in this land, means responsibility for all those who live here, and obliges all of us to uphold the strictest of moral codes, which is inherent in each and every one of us," the president continued.
His comments come at a time of heightened tension between Israel and the Palestinians following the death in July of a Palestinian toddler and his father in an arson attack on their home.
In the wake of the firebombing in the West Bank village of Duma, three alleged Jewish extremists were placed in administrative detention.
On Sunday, the Shin Bet domestic security agency said the deadly attack had "emanated" from a wildcat Jewish settlement outpost near Duma.
The agency said "restraining orders" restricting the movement of 10 activists had been issued as a result.
Rivlin condemned "Jewish terrorism" after the July arson attack in a post on Facebook, which was later followed by death threats against him.