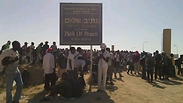 Holot (Photo: Liat Bultzman)
Photo: Liat Bultzman
Hundreds of asylum seekers are set to be freed from the Holot detention center in southern Israel on Tuesday, as a result of a High Court of Justice ruling that limits the amount of time an individual can be detained without trial to one year.

As of 8 am Tuesday morning, around 600 asylum seekers have begun undergoing a hearing process with members of the Administration of Population and Immigration.

In a bid to reassure the public in the cities hardest hit by the immigration wave, Public Security Minister Silvan Shalom drafted a plan denying the freed migrants entrance to Tel Aviv or Eilat which was approved by the regional courts on Sunday.

Human rights organizations have warned that many of the freed asylum seekers previously lived in the cities they are barred from entering and as such will have no where to go.




Holot is an "open" detention facility where asylum seekers are held without trial.

As the first trickle of asylum seekers was freed, Ynet spoke to Isaac Hamed, an asylum seeker from Darfur,"I would like to thank the judges, this place is really tough," he said. "I don't know what I will do, but I will act according to the law and will not go to Tel Aviv or Eilat. I will go back to Arad but I don't know how I will find work there."

A total of 1,178 asylum seekers are set to be freed from Holot in the coming days.

The ruling angered residents of southern Tel Aviv where locals have felt the brunt of Israel's African immigration crises with tens of thousands of illegal residents remaining in the area.

Eilat has also been a central destination for those arriving from across the Egyptian border with 10 percent of its population currently made up of illegal immigrants and asylum seekers.