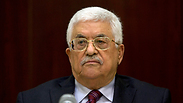 Palestinian President Abbas
Photo: AP
All of a sudden, Iran is a "neighbor" and "sister" to the Palestinian Authority president. It's unclear what possessed Abbas to take advantage of a group of journalists from Poland, with whom he met two days ago in Ramallah to announce that he was going to visit the "sister" in Tehran "soon".

All of this is quite strange, because Abbas could not provide a date for his visit, and it turns out that Tehran was also surprised to learn he was coming. So far, they have neither confirmed nor denied the visit.

What is certain is that amid reports of a deal being in the works between Israel and Hamas, Abbas decided to flex his muscles. If Hamas is working with Iran, so will he. If Hamas is getting aid from Iran, Abbas wants some too. Hamas is in conflict with Saudi Arabia and Egypt, and Abbas will be too if he really does go to Tehran, especially with the Saudis.

No one is taking his resignation seriously. Not in Israel, not in the Arab world, not in Washington and especially not in Ramallah. It appears that he is more interested in appearing defiant, as if to say: "Hold me back, I'm ready to break the rules."

Hanan Ashrawi, one of the nine other officials to resign from the PLO Executive Committee, said what everyone else was thinking: The institutions of the PLO need some new blood. But Abbas, lest we forget, will remain the Raees. He has no intention of letting go of the presidency.

We became accustomed to him even before Arafat's death, to his extreme moods and capricious decisions. An Israeli who meets him in person will encounter a nice elderly neighbor. He in no way encourages terrorism; and he knows Israeli society and its leaders pretty well. But in his old age, he is pretty sick of being stuck in the same place.

Even if Netanyahu calls on him to return to the negotiating table, he will expect nothing would come out of it, and worry that it would weaken his position on the Palestinian street. He also suspects that there's a deal brewing behind closed doors that would come at his expense. No one is talking about the "historic" reconciliation between the PLO and Hamas anymore.

One thing's for sure - Khaled Mashal's insistence to report on "progress" in talks with Israel was aimed at Abbas: To slam the one who is sitting comfortably in Ramallah and looking for a plane ticket to Tehran.

In the midst of all of this, Abbas has also managed to declare war on Mohammed Dahlan, kick prime minister Salam Fayyad out, and fire Yasser Abed Rabbo. If he was truly resigning or seeking to hold an election for the Palestinian Authority, he would not have spent that time cleaning house.

Abbas is 80 years old, smokes like a chimney, doesn't really exercise and doesn't keep his diet as well as Shimon Peres does. The day after Abbas can become a reality at any given moment.

I see him as a kind of tragic figure that reflects Palestinian sadness and frustration. He doesn't have Arafat's charisma, and was even robbed of a Nobel Peace Prize despite his intense involvement in the secret talks that led to the Oslo Accords.

Now he is bringing his faithful friend Saeb Erekat into his inner political circle, but at the same time he continues to keep score, and views his closest confidants in black and white, either good or treacherous, without anything in between. Younger politicians can't even get their foot in the door.

A Raees in the Arab world, any Raees, does not retire voluntarily. Either nature takes its course, or the masses in the squares kick him out. No one is going to protest against him in the West Bank, but there's no need to envy Abbas.

If he does decide to give up and quit, as he has been threatening to do, he will face a witch hunt over all of the affairs his senior position has so far protected him from. So he stays.

He knows the Israeli-Palestinian conflict is unsolvable: Jerusalem will not be divided and no one is going to agree on borders. And, in any case, Iran and ISIS have stolen the spotlight from him long ago.