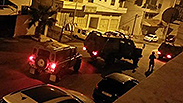 לכתבה! כוחות צה"ל חברון פלסטינים חיסול חוטפי רוצחי נערים פעילות צה"ל שב"כ
The Shin Bet foiled a plot to attack Joseph's Tomb in Nablus with a series of preemptive arrests, it was cleared for publication on Tuesday.

A statement released by the Shin Bet said that "The agency, in cooperation with the IDF, has arrested a terror cell compromised of four Palestinian residents of the towns of Tulkarm, Nablus, and Kabatya."

The cell was allegedly planning to execute an ambush against devout Jewish worshippers who often visit Joesph's Tomb in Nablus without coordinating with IDF forces. The ambush would be conducted using a pre-placed bomb and assault rifle fire.

The West Bank cell was directed from Gaza by an Islamic Jihad member named Mohammed Darwish, who was tasked with providing arms and logistic support to the cell in the buildup to the attack.

An interrogation of the suspects revealed that the cell was largely compartmentalized, where the suspects were mostly unaware of each other; and each held a specific task. These tasks included acquiring weapons, intelligence gathering, and carrying out the actual attack.

The suspects revealed that the two residents of Tulkarm were set to carry out the attack, while the members from Nablus and Kabatya organized the logistical support for the cell.

According to the Shin Bet, the suspects have admitted to involvement in the plot, including conducting preliminary intelligence gathering at the site, and initial bomb training.

The Shin Bet identified the suspects as Nasim Damiri, 30, of Tulkarm – a previously jailed Fatah member; his cousin Mohammed Damiri, 23, of Tulkarm – a Palestinian policeman; Yasser Tzarawi, 25, of Nablus - a known Hamas member; and Adwan Nizal, 24, of Kabatya – a known Islamic Jihad member.

In recent weeks, Shin Bet and security forces have been fighting a rising trend of sporadic terror attacks, as well as conducting operations against Jewish extremism in the West Bank.

Most recently, the agency and Central District Police forces arrested nine Palestinian youths for allegedly throwing Molotov cocktails at a vehicle on Route 20 near Beit Hanina, wounding two people.