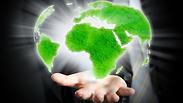 Global conservation might be within our reach. (Photo: Shutterstock)
How much would it cost to save the world? As it turns out, not that much. At least that's what Professor Uri Shanas of the University of Haifa at Oranim, who has started a crowdfunding project that aims to preserve the biological diversity in danger of extinction on earth, believes. In a few weeks, the professor has managed to pass his initial target sum of $20,000, and donations are still coming in.

Professor Shanas, a faculty member of the Department of Biology and Environment at the University of Haifa, has started an open, democratic, international "purchasing group" whose entire purpose is saving the planet.

"We don't have to, and we can't, defend the earth at all times," said Shanas. "But if we can preserve the part that has an extraordinary diversity of plants and animals that are at risk of extinction, we can stop the disappearance of species that is happening today."

Professor Shanas asked for help from the public in raising $25,000 to create an organization dedicated to conservation of the world's species. He said there are already many species of plant and animal in danger of going extinct, with the list only growing with global warming and the continued destruction of open pastures.

"We don't always know what the extraction of one species from the system will do, but there are examples of systemic collapse that went so far as to affect mankind that were the result of one species' extinction. For instance, the extinction of the sea otter in the Pacific Ocean caused a rise in local sea urchin populations, which ate the algae in the area, causing fish populations to starve, causing many fishermen to lose both their livelihood and food supply," explains Prof. Shanas.

According to him, the path to conservation of the biological diversity is simple. 1.4 percent of the world's surface is comprised of areas that are considered "hot zones" of biological diversity – areas where many plant and animal species are on the brink of extinction. Purchasing these areas and turning them into nature resorts could save these species, and life on earth.

Professor Shanas wants to create an organization called This Is My Earth (TIME), which every person on earth will be invited to join at a (starting) cost of $1 per year. All members will vote each year on where to invest the organization's money, chosing from a list of "hot zones" that will be put together by an international team of scientists. All members will have an equal vote, no matter how much they paid in membership fees.

"The main difference between TIME and other groups and individuals who are purchasing land for conservation today is the democratic, international, and public nature of the project," said the professor, "as well as the fact that responsibility for taking care of each zone purchased will be given to TIME members in that zone's contry. The goal isn't to maintain some sort of 'green colonialism', but to let local residents handle their own natural resources. We're interested in building an organization that can educate people to be involved, conserve the environment, and be democratic from an early age. And yes, also to save the earth."

The University of Haifa mentioned that in the two weeks since the project was started, the crowdfunding campaign has surpassed expected targets by about 25 percent. Most donations came from the United Stated, Israel, China, and Canada. However, some also came in from distant counrties like Georgia, Cambodia, Thailand, Kenya, and New Zealand.

Readers who would like to help create TIME can do so at Indiegogo.