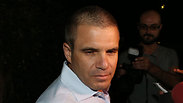 Brigadier General (res.) Gal Hirsch
Photo: Tzvika Tischler
The decision to appoint Brig.-Gen. (res.) Gal Hirsch to replace Yohanan Danino as Police Commissioner has led to a lot of anger, disappointment and mostly surprise among parents who lost their sons during the Second Lebanon War.

"It doesn't make sense for someone who failed in his job to get a kick up the ladder. Failure in senior positions is intolerable," said Moshe Muskal, the father of fallen soldier Refanel Muskal, a fighter in the Egoz Unit who was killed in the Second Lebanon War.

Moshe Nisan from Ma'aleh Adumim, whose son Yinon was killed on the last day of the Second Lebanon War when an anti-tank missile hit his tank, is furious over Hirsch's appointment: "My son was killed because of him. He's the main official I can blame - there may have been other commanders after him and under him, but he gave the order to go in (to Lebanon) in daylight, against the procedures, and because of that my son was killed.

"This appointment has opened up old wounds and is breaking our heart. I don't understand this conduct, this man is unsuitable to take on a senior position in the police."

Nisan said he was shocked when he heard of the appointment. "I had tears in my eyes. Just hearing that name makes me furious with pain. This won't pass quietly. It takes me back. They won't let us rest, they keep reopening our wounds. This government doesn't see us. We gave our sons and they don't even think about us," he said.

Nisan said he and other bereaved families are planning to protest against the appointment.

"I spoke to my good friend Haim Tzemach yesterday, whose son Oz was killed with Yinon in the same tank, and I told him we must act and protest wherever necessary across the country. We will act to stop this appointment," he said.

"This appointment is inappropriate, this man in unsuitable to be in such a senior role in the police. I don't have a problem with bringing people in from the outside, but not people who failed. This man failed in the abduction (of Eldad Regev and Ehud Goldwasser), he failed in the war... he doesn't know how to function under pressure and cannot deal with senior positions."

Haim Tzemach, meanwhile, warned that the appointment would be detrimental to the State of Israel. "If I were to judge him on his ethics, he would receive a failing grade. How can someone who failed be appointed? This is a disgrace to the state. Netanyahu is legitimizing injustice."

Tzemach telephoned retired Supreme Court judge Jacob Turkel and asked him to review the appointment again. "Just as I spoke with the Winograd Commission, which I said was biased and misleading, I spoke with Turkel and told him not to be a rubber stamp and check the appointment thoroughly and take into account public sentiments. In Gal Hirsch's case, he failed when it came to the results."

He noted that he would also act to prevent the appointment: "He is not suitable. If a person fails in protecting and acting and in the test of war, he cannot be 'bounced' up so that he is responsible for me, my grandchildren and my family. He cannot be trusted. I would like Turkel to review this in depth and I would like to appear before the commission. He asked to send a letter .This shows that it is a rubber stamp and will probably be approved."

David and Revital Einhorn, whose son Yehonatan was also killed in the Second Lebanon War, were also angry about the decision.

"The public has been deceived, this appointment was underhanded opportunism. Hirsch should not be in any public office because of what he did. The message this sends out is that in Israel, you can commit injustice - and you'll end up being forgiven and promoted. They count on our short memory spans and saying 'that's fine, so what if 121 bereaved families object.' It's a part of this government's disrespect to those in grief," they said.

Elipaz Baluah, who lost his son Nadav in the Battle of Maroun al-Ras, was also angry about the appointment. "It's very improper. What is he getting a reward for? What are they compensating him for? If he was unworthy of receiving a major-general's position, why is he getting a lieutenant-general's position?"

But there were other voices heard. "Apparently no one wanted to jump into a sick person's bed. I would give him a chance," said Hezi Segev, the father of Nimrod, a tank commander who was killed in the Second Lebanon War. "To his credit, he took responsibility for the death of my son. There was clearly a screw-up and poor judgment."

However, Zvi Regev the father of Eldad, whose abduction and that of Ehud Goldwasser's sparked the war, preferred not to give his opinion: "There are no bad feelings in my heart for the man."

Regev told Army Radio this morning that he was disappointed with Hirsch's appointment as police chief. "He commanded the Second Lebanon War and there were very serious losses, including my son," he said. "I have a feeling that they simply do not take the bereaved parents into account when making decisions… I can not decide if he will be the next police chief, but I see him as responsible for the abduction of my son and Ehud Goldwasser. It is bizarre how the state functions."

Along with the criticism, Regev says that he met Hirsch several times: "Maybe he did some soul-searching, maybe he learned from his terrible mistakes. During my meetings with him, I discovered a man who knows his business, he explained what occurred there. He has been successful in commanding people, I do not want to express an opinion. I'm resigned to my pain and continue to live with it."

Even politicians voiced harsh criticism of the appointment. Former MK Maj.-Gen. (res.) Elazar Stern said: "I congratulate Gal Hirsch on his appointment but it is a sad day for Israel. What this appointment really means is that there are no major generals in the police force that fit the position. The appointment is irresponsible and degrades many people. I would say the same thing about any brigadier general appointed. I hope someone will come to his senses and realize that it is not easy to learn about an organization so big and complex as the Israel Police. The bottom line is this is a sad day, and not only for the police force."

MK Maj.-Gen. (ret.) Mickey Levy, who knows the police force well, expressed his bitter disappointment: "It would have been right to choose one of the current major generals to be police chief. Unfortunately, Public Security Minister Gilad Erdan decided not to select talented people with many years of experience in the force, and chose someone who does not know the Israel Police at all; and this at a time when the force has been undergoing difficult upheavals and is now expected to deal with another blow - the retirement of its senior command leadership."