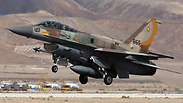 Israeli aircraft targeted a weapons manufacturing facility in central Gaza Strip early Thursday morning in reaction to a rocket that was fired from the Palestinian enclave and landed in an open area in the Eshkol Regional Council earlier in the night.

No injuries or damage was reported in the rocket fire and the results of Israel's retaliation were unclear. The IDF said that the targeted facility belonged to Hamas, the extremist Palestinian faction currently in control of the Strip.

The IDF also confirmed the rocket attack, adding that one projectile had landed near the border fence and that code red sirens meant to alert residents of incoming rocket fire were not triggered.

According to the IDF, code red sirens failed to sound because the rocket did not pose a threat to inhabited areas.

Residents reported hearing an explosion from the rocket just after midnight. Security forces spent the night searching the field for the projectile.

The last incident of rocket fire from Gaza occurred three weeks ago on August 7 when code red sirens also remained silent and one projectile landed inside Israel with another falling short, landing in Gaza.

Israeli aircraft also retaliated to this incident, attacking the Gaza Strip and wounding two Hamas militants, according to the organization.