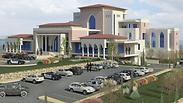 Israel's prime minister is due to be pampered with a new residence and office in the coming years at a price tag of NIS 650 million - a project approved by government ministers last year - but Benjamin Netanyahu's Palestinian counterpart is not to be outdone.

Though more limited in resources than the prime minister, Palestinian President Mahmoud Abbas has dedicated $13 million to the construction of "Presidential Guest Palace" in Ramallah, a project recently listed on the Palestinian Economic Council for Development and Reconstruction's (PECDAR's) official website.

According to PECDAR, responsible for much of the West Bank's economic policies and projects, the new palace will take two years to complete and will be paid for internally by the Palestinian Ministry of Finance, drawing some criticism due to current financial difficulties in the Palestinian territories.

In March, the Palestinian government was forced to adopt an emergency budget when promised international aid fell short and Israel withheld $127 million in tax revenues. Israel released the taxes in April and the Palestinian Authority used much of the money to pay civil servants that had been receiving partial pay checks.

The presidential project in the Ramallah suburb of Surda is due to fill 4,700m2 "along with a building for the Presidential Administration and Guards with an area of 4,000m2," according to PECDAR. The complex will also include two helipads, but is listed as a "public facilities" project.

No starting date for the palatial project is listed on the PECDAR website.