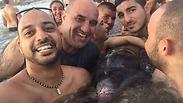 Swimmers delighted to see dolphin at Acre
An exhausted dolphin surprised swimmers at an Acre beach Wednesday when it was found on the rocks at the beach and was taken for medical treatment.
A resident of Northern Israel said, "I always swim in the sea and did not expect to see a dolphin. It is a beautiful experience that I will cherish for the rest of my life."
Swimmers delighted when dolphin shows up at a beach at Acre
Lifeguard and senior medic Kader Kaduri recounted, "My brother and I were working today at the beach. While working, I was looking through the binoculars towards the sea and suddenly I saw a huge fish lying on rocks which was having difficulties returning to sea. I called my cousin and another friend and we released him towards the sea.
"The dolphin was exhausted, so I called the naval police and they came and said they were looking for him for nearly a week," Kaduri continued. "Then we released the dolphin back into the sea and waited almost three hours until a vet arrived and gave it a shot. They then took him to the pool in Shavei Tzion, and from there to further treatment."
Kaduri added, "A lot of people were amazed, it was a huge experience for them. They started to pet and play with him."
The police reported that, "Acre police station responded at around 6pm to an unusual call to rescue a dolphin stuck on the rocks at a beach in Acre. Others arrived at the scene, including the district veterinarian, inspectors from the Israel Nature and Parks Authority and divers from the Shavei Zion diving club. Together with the police, they helped rescue the dolphin and transport it for further professional treatment professional of the Israel Nature and Parks Authority."