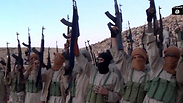 Islamic State has seized new territory from Syrian rebels in northern Syria, advancing in an area where Turkey and the United States are planning to open a new front against the group.

The Syrian Observatory for Human Rights, a UK-based group tracking the war, said it had seized five villages including two near the Turkish border from other Syrian insurgents.

Islamic State announced it had captured three villages in the area and said its fighters had nearly encircled the rebel-held town of Marea, some 20 km (12 miles) south of the Turkish border.

Turkish Foreign Minister Mevlut Cavusoglu told Reuters on Monday that the two NATO allies would soon launch "comprehensive" air operations to flush Islamic State fighters from the border region.

The villages captured by Islamic State include two that the al Qaeda-linked Nusra Front recently handed over to another Syrian rebel group.

Islamic State has escalated attacks against Syrian rebels in the northern Aleppo countryside since Turkey announced plans to drive the group from the area.

The Nusra Front, which is hostile to Islamic State, announced earlier this month that it would withdraw from the area where Turkey plans to establish a buffer zone.
Ineffective in Iraq
Meanwhile, two senior Iraqi military commanders were killed on Thursday in an Islamic State car bomb attack north of Ramadi, the capital of Anbar province where pro-government forces are battling Islamic State, a military spokesman and police sources said.

The military and police, backed by Shi'ite militias, Sunni tribal fighters and US-led coalition air strikes, are fighting to retake the city, 100 kilometers (60 miles) west of Baghdad, from the radical Sunni insurgents. But progress has been slow.

Deputy Commander of Anbar Operations Command Major-General Abdel Rahman Abu Ragheef and Brigadier Safeen Abdel Majeed, head of the tenth division, were killed in the attack in the Jerayshi area along with three other people, said joint operations spokesman Brigadier General Yahya Rasool.

He told state TV the military had intercepted an explosives-laden vehicle targeting the forces, "but the resulting explosion led to (their) martyrdom." At least 10 others were wounded in the explosion, he said.

Separately, three people were killed in a suicide car bomb targeting a police checkpoint in the town of Bajwa, 15 kilometers (10 miles) northwest of Kirkuk.