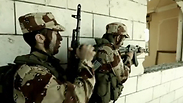 Hamas showcased its recovered tunnels unit in a video released on Thursday, a year after the end of Operation Protective Edge, during which the IDF destroyed a large part of the tunnel infrastructure in the Gaza Strip.

The video released by the terror organization's military wing, the Izz ad-Din al-Qassam Brigade, shows the tunnels unit fighters inside one of the terror tunnels, awaiting the right moment to attack IDF troops. The unit is also seen gathering intelligence and fighting in a built-up area.

Hamas is attempting to show that it has managed to rebuild the tunnels that were destroyed in last summer's operation. A recent IDF assessment said Hamas' commando unit is now better trained and equipped with the most advanced equipment.

The investment in the group's military capabilities did not stop political bureau chief Khaled Mashal from telling London-based Al-Araby al-Jadeed that the organization was in talks with Israel about a long-term ceasefire and even claimed that talks "seemed positive, but we have not reached an agreement yet."

The Prime Minister's Office, however, said earlier this week that it was not holding any talks with Hamas - direct or indirect.