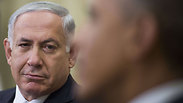 A senior US Treasury official will travel to Israel this week to discuss the nuclear deal reached between Iran and world powers with senior Israeli officials, the Treasury Department said on Thursday.

Acting Under Secretary for Terrorism and Financial Intelligence Adam Szubin will travel to Israel from Friday through Monday, the Treasury said in a statement. It will be his first visit there since the nuclear deal was signed in July.

Israeli Prime Minister Benjamin Netanyahu strongly opposes the accord reached between Iran and the United States and five other world powers, which imposes limits on Iran's nuclear program in return for relief from sanctions. He argues the deal does not do enough to curb Iran's nuclear program and will bring Tehran a windfall in sanctions relief that could help fund regional conflicts.

While in Israel, Szubin will discuss details of the nuclear deal and "emphasize the United States' commitment to increasing cooperation with Israel to combat Iran's support for terrorism and other destabilizing activity in the region," the Treasury said.

A Treasury spokesperson said Szubin will meet with Dore Gold, director-general of Israel's Foreign Ministry, National Security Adviser Yossi Cohen and Energy Minister Yuval Steinitz, among other officials.