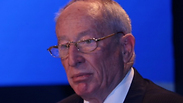 Attorney General Yehuda Weinstein
Photo: Motti Kimchi
Attorney General Yehuda Weinstein is examining information received by police regarding Brig. Gen. (Res.) Gal Hirsch, recently nominated as Israel police chief, and the possibility that Hirsch broke the law by engaging in money laundering.

Weinstein's office received the police complaints last night about two security-related business deals that a company that Hirsch headed made with Kazakhstan and Georgia.

In 2008 Israel passed a law prohibiting bribery of any public servants in the whole world during business transactions, primarily security industry-related transactions. A high-level police official said yesterday, "We are aware that in security-related deals in the Third World there are deviations from western norms. Obviously if Hirsch deviated he cannot serve as police chief."

,

The Police Investigations and Intelligence Division had received information and complaints regarding foreign arms deals in which Hirsch was involved in 2008. The information has yet to be verified.

Major General Menachem Yitzhaki, head of the police investigations and intelligence division, updated the attorney general upon the announcement of Hirsch's nomination. However, police sources have emphasized that caution must be practiced with regard to the information as at least a part of it comes from interested parties.

If the nomination is approved, Hirsch will have to go through a painstaking review of his business deals, as well as signing a conflict of interest clause which would completely disengage him and his associates from the aforementioned security dealings and profits.

The Attorney General aims to present an opinion to the government prior to a vote on Hirsch's appointment, the bottom line being whether it will be possible to defend Hirsch in the event of a petition to the High Court of Justice, or if the appointment raises significant legal difficulties. An official within the Ministry of Public Security estimated that Weinstein ultimately will not invalidate the appointment.

The attorney general's opinion will focus on a number of levels including whether the nomination process was done according to the rules; if Hirsch engaged in illegal conduct during his lifetime, in acquiring his wealth, and in his IDF service; and whether he broke the law in his private business dealings.

The documents and information on Hirsch's private business include information provided by Public Security Minister Gilad Erdan, which contain an overview of his activities as the Galilee Division Commander during the Second Lebanon War.

As commander of the Galilee Division, he was held responsible for the event that sparked the fighting - the abduction of reservists Ehud Goldwasser and Eldad Regev. After the war, the commission of inquiry headed by Maj.-Gen. (res.) Doron Almog established that Hirsch was responsible for several failures that allowed Hezbollah to carry out their ambush plan on the Lebanese border.

In light of what was defined as "a professional, profound and fundamental failure on the command level," Almog recommended to discontinue Hirsch's command position and to not promote him in the IDF, and his conclusions were adopted.