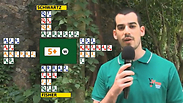 Two Israeli bridge players, who are considered to be among the best in the world, have been accused of cheating in several tournaments.

The accusations against Lotan Fisher and Ron Schwartz came from their four teammates, who announced they were renouncing three titles they had won together.

Media in Britain, where the "Bridge-Gate Scandal" has garnered a lot of interest, reported that the teammates did not elaborate on how exactly Fisher and Schwartz cheated.

Norwegian bridge champion Boye Brogeland was quoted on the Bridge Winners Forum as saying, "If you have a cheating pair on your team, I believe you should lose whatever Masterpoints, Seeding points and titles you have won together."

"The Schwartz team from the two previous cycles (Richie Schwartz, Allan Graves, Espen Lindqvist and Boye Brogeland) has decided to give up the Spingold Trophy, the Reisinger Trophy and the North American Swiss that we 'won' in 2014 and 2015. We believe in a clean game and we love bridge," Brogeland added.

Fisher, 26, who is considered a bridge prodigy, slammed his teammates on Facebook in response to the most recent accusations.

"Jealousy made you sick," he wrote earlier this week. "Get ready for a meeting with the devil."

Lior Lotan interview

On Tuesday, Fisher and Schwartz said they had hired an international team of legal experts "to expose the interests and sources behind this attempt to falsely accuse them."

The legal team called the cheating claims a "smear campaign" against Fisher and Schwartz but said that they would fully cooperate with any investigation.

Comments online compared Fisher and the 28-year-old Schwartz to disgraced American cyclist Lance Armstrong, who admitted to using illegally substances while competing in the Tour de France, which he won seven times.

Bridge fans online questioned how the Israelis could have cheated. Professional bridge players are separated from their partners by screens, and only face their opponent. The matches are watched by a live audience of thousands, and many more online. All of which makes it harder to cheat without getting caught.

Earlier this year, the two were accused of using illicit information. At the time, Fisher rejected the allegations, calling it "the price of success."

In 2010, during his army service, the "wonder boy of Israeli bridge" Fisher filed a libel lawsuit against another Israeli bridge player who called him a cheater on three different occasions.

At the time, Fisher was already the youth European champion, and had won a silver medal in the Mind Sports games in Beijing. The two Israelis also won close to $10,000 each a year ago when they won a tournament at the Cavendish Bridge Club.