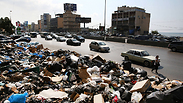 Waving red, white and green Lebanese flags, thousands of people poured into a major square in downtown Beirut Saturday, staging the largest of the demonstrations that began last week over garbage piling up in the streets of Beirut following the closure of a main landfill.

The government's failure to resolve the crisis has evolved into wider protests against a political class that has dominated Lebanon since the end of the country's civil war in 1990 and a government that has failed to provide even basic services to the people. Protesters filled up the square known as Martyrs' Square, shouting anti-government slogans in a peaceful, carnival-like atmosphere.

Protest in Beirut (צילום: רויטרס)

The main group behind the protests, however, issued a set of demands, giving the government an ultimatum of 72 hours to begin responding.

In a speech before thousands of protesters in Beirut, Rasha Halabi, a spokeswoman for the "You Stink" group, called for the resignation of the Lebanese environment minister and for the interior minister to be held accountable for police brutality against protesters last weekend.

She said the group will escalate its protest actions by Tuesday evening if the government did not respond.

At least two or three armored personnel carriers were deployed around the prime minister's office. A man over a megaphone chanted, "Declare it a revolution!"

Two protests last weekend outside the prime minister's office drew up to 20,000 people and were generally peaceful. But the rallies turned violent when security forces used batons, tear gas and water cannons to disperse groups of people who tried to break the security cordon around the prime minister's office.

There were concerns that Saturday's protest would also descend into clashes. To avoid friction with security forces, organizers of the protest shifted the location from Riyad Solh square opposite the government building known as the Grand Serail to Martyr's Square, a major square few hundred meters away.

The government said a joint security-military operations room was set up to prevent chaos.

Thousands of people gathered in downtown Beirut, many of them in white T-shirts that read "You Stink," the name of the main activist group behind the protests.

"Today is a step on a long road," said Fares Shoufani, a 48-year-old contractor, who said he has been working since 1990 to change the country's sectarian regime. His movement, a new one, joined "You Stink" to push for that. "We are depending on this movement. The more it advances forcefully, and the more the people join. "

Alex Paulikevitch, a 33-year-old choreographer, said it was time to rise up because rubbish has filled the streets.

"It is turning into - I won't say revolution - but kind of an uprising. It would be great if we win on the rubbish issue because this will cause the beads to come undone," he said.

Paulikevitch said he doesn't think the protests will bring down the system "but if we get one demand to solve the rubbish problem it will be great."

"It's not about rubbish it's about a decaying political system," read one banner. "We want a new Lebanon," read another.

The London-based rights group Amnesty International called on Lebanese authorities Saturday to investigate allegations that security forces have used excessive force to disperse rallies.

Amnesty said security forces fired live rounds, used rubber bullets and hurled stones or beat protesters, leaving 59 people hospitalized. It called on security forces to refrain from using "unnecessary or excessive" force during Saturday's protest.

"Everyone in Lebanon has the right to peaceful assembly. Lebanese officials must uphold this right and send a clear message to security personnel that such attacks against peaceful protesters will not be tolerated," said Lama Fakih, senior crisis adviser at Amnesty International.

In an interview with The Associated Press, Interior Minister Nohad Machnouk acknowledged there were "mistakes" that led to the excessive use of force and said an investigation was under way. Officials say more than 100 security personnel were also injured.

Reflecting concern over renewed clashes, the rally organizers from "You Stink" said they are deploying 500 volunteers to coordinate with security forces and prevent violence.

Assaad Thebian, a movement organizer, said his group wants to avoid any attempts to spoil their peaceful anti-government rally. They worry politicians would seek to hijack their protest, further entrenching the political establishment they are protesting against.

The campaigners say they seek radical reforms including an end the patronage system that divvies up power among Lebanon's multiple communities - Shiites, Sunnis, Christians, Druze and more. That system has been the center of Lebanese politics for decades and helped fuel the 15-year civil war.

"We warn every politician trying to create chaos by opening a battle in one square that it will fire back at you," Thebian wrote on his Twitter account.