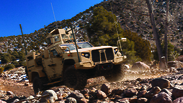 There's a new bully on the playground, due to replace the Humvee as the Western world's dominant, all-terrain military vehicle - and it's expected to reach Israel after going into active duty in the US.

The Oshkosh L-ATV (Light Combat Tactical All-Terrain Vehicle) recently won the Joint Light Tactical Vehicle program, with a design meant to offer better protection, more agility and greater speed than the Humvee, in service for over 70 years in various armies including the IDF.

Out with the old.

The US Army plans to incorporate the L-ATV into operation by 2018. Oshkosh has manufactured military vehicles for nearly 100 years and expects to sell 55 thousand of the new-age, all-terrain monsters for a total of $30 billion by 2040.

That figure does not include potential sales to foreign countries including Israel, at $250,000 per vehicle, some $100,000 more expensive than the Humvee.

Despite the heavy cost, Israel is likely to acquire the vehicle if for no other reason, thanks to an Israeli company's involvement in creating the L-ATV.

Plasan, a manufacturing company based in Kibbutz Sasa, is considered a world leader in light but effective vehicle armor and has maintained a close partnership with Oshkosh for over a decade, resulting in several armored military vehicles in use today including the M-ATV (the L-ATV's big brother) that played a central role in American combat operations in Iraq.

Sources in the industry confirm Plasan's significant role in creating the L-ATV as well, but due to the program's requirements that at least 50 percent of the vehicle's components be made in the US, the Israeli company is only expected to see minimal profits from the deal.

In any case, the deal will provide Plasan with much-needed funds after the company was forced to fire some 800 workers after the US pulled troops out of Iraq and ceased combat operations.