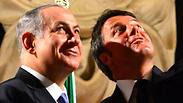 Netanyahu and Renzi
Photo: GPO/Getty Images
Prime Minister Benjamin Netanyahu on Saturday held a meeting with Italian Prime Minister Matteo Renzi in Florence, whre he said that Israel was only opposed to an Iranian military nuclear program, not one meant for peaceful purposes.
"Let me make clear, Matteo, that Israel doesn't oppose a civilian nuclear program in Iran," said Netanyahu. "We oppose a military nuclear program in Iran."
The prime minister also told Renzi: "All the people of Israel were moved by your historic speech in the Knesset. I've heard many speeches in the Knesset. Yours was one of the exceptional ones that touched on basic truths that bind our two countries and our common civilization... I look forward to discussing with you this evening how we can further expand the cooperation between Israel and Italy in technology, in agriculture, in culture and science, in fighting terrorism, in security and stability for our world.
Netanyahu discussed the threat posed by Iran with Renzi, saying: "The savagery of the Islamic State of ISIS captures the world's attention, and justifiably so. But I believe that a far more serious threat is posed by another Islamic state, the Islamic State of Iran, and specifically its pursuit of nuclear weapons... And regrettably, the deal with Iran allows it to keep and expand a formidable nuclear infrastructure that is completely unnecessary for civilian nuclear purposes, but is entirely necessary for the production of nuclear weapons.
"The deal will give Iran within 13 years the ability to make as many centrifuges as they want, enrich as much uranium as they want to whatever level that they want," continued Netanyahu. "And this will put the Iranian Islamic state that practices terrorism worldwide, it will put it on the threshold of an entire nuclear arsenal.
Netanyahu further warned that "Iran will get hundreds of billions of dollars of sanctions relief and investments to fuel its aggression and terrorism in the Middle East, in North Africa and beyond that. I think that this will make Iran far richer and far stronger militarily, and it will make it far more difficult to confront its nuclear ambitions in the future."
Netanyahu and his wife Sara landed in Milan on Thursday and attended Expo 2015, dedicated to developments in agriculture and food. They continued on to Florence, where Netanyahu also met leaders in the Jewish community.