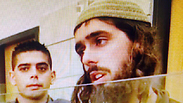 One of the hilltop youth arrested this month
The Israeli government initiative has a soothing biblical name, the Hebrew Shepherd, and a serious aim: to keep ultranationalist Jewish settler youths from turning to violence and attacking Palestinians and their property.

But the program - which included plans for a summer camp and carpentry courses to keep the kids out of trouble - has foundered. Many settler youths have refused to cooperate after rumors spread that Israel's domestic security agency, Shin Bet, which snoops on Jewish extremists, was involved.

It is but one example of Israel's failure to rein in youths suspected of carrying out ultranationalist attacks. The deadliest such assault, a firebombing last month on a West Bank home, killed an 18-month-old toddler, Ali Dawabsheh, and his father, Saed, and critically wounded his mother and 4-year-old brother. A Star of David and "revenge" in Hebrew were sprayed on the torched home.

In the wake of the attack, Israeli Prime Minister Benjamin Netanyahu pledged "zero tolerance" for what he called Jewish terrorism.




But there has been complicit tolerance of the phenomenon for years, say Palestinian leaders, former Israeli security officials and even some settlers. They blame holes in Israel's juvenile welfare system, lax law enforcement, a lenient justice system and rabbis and Israeli leaders unwilling or unable to tackle the elusive young fundamentalists.

A main focus of the concern is the so-called "hilltop youth," young people among a settler movement that sets up outposts not authorized by the Israeli government on West Bank hilltops - land the Palestinians claim for their hoped for state.

"There is no serious adult, no individual today who says, 'I am the person who will take responsibility,'" said Avia Azulay, 35, a hilltop settler, speaking from his spacious home in the unauthorized West Bank outpost of Shir Hadash.

A youth counselor and former hilltop youth himself, Azulay joined the Hebrew Shepherd program a year ago to try to help keep young extremists from the brink of violence, but resigned because he thought the Shin Bet's alleged involvement undermined the young people's trust.

After last month's firebombing, Israel carried out arrest raids of hilltop outposts and jailed three Israeli settler activists in their early 20s for six months without charge, a measure used regularly against Palestinian detainees but rarely on Israelis. Israel has not yet found the culprits of the deadly attack.

The Israeli rights group B'Tselem said despite the recent crackdown, Israel is unwilling to prosecute settlers suspected of crimes against Palestinians. In the past three years, the group said, Israeli civilians set fire to nine Palestinian homes in the West Bank and hurled a firebomb at a Palestinian taxi, but no one was charged.

"The government has created a climate of impunity with settlers," said Sarit Michaeli of B'Tselem.

Israeli human rights group Yesh Din said less than 10 percent of police investigations into alleged Israeli crimes committed against Palestinians and their property from 2005-2014 resulted in indictments.

Israeli police defend their efforts to combat Israeli attacks against Palestinians, and say there has been a big jump in arrests and indictments since a special "nationalistic crimes" unit was created in 2013, though they declined to provide precise numbers.

Critics say influential settler rabbis have done little to publicly denounce the violent youths, and that Israeli leaders have embraced settler activists who support them. Netanyahu himself appeared in an election rally this year co-organized by hilltop youth supporter Daniella Weiss.

Recent arrests of young settler activists offer a peek into what the Shin Bet says is a fringe group suspected of arson attacks on Palestinian property in order to bring about religious "redemption."

One suspect, Moshe Orbach, is accused of writing a detailed instruction manual on how to set fire to mosques, churches and Palestinian homes. Entitled "Kingdom of Evil," it instructs activists to form underground cells committed to "sanctifying God's name" - and with members who know how "to keep silent in interrogations."

The other two are Meir Ettinger, the 23-year-old grandson of the late Jewish ultranationalist Meir Kahane, whom the Shin Bet calls the ringleader of the group, and Eviatar Slonim, an activist in the hilltop settlements.

All three have been jailed without charge for six months, accused of affiliation with an extremist Jewish organization, an accusation they deny. Their so-called administrative detention is a tactic usually reserved for suspected Palestinian militants.

The Hebrew Shepherd initiative once set its sights on Ettinger as part of its efforts to encourage hilltop youth to learn a vocation, according to the settler website Hakol Hayehudi.

Speaking to the website, Ettinger said, "During the first meeting with the workers from the program, I noticed how all their efforts were focused on career and money. This is fundamentally opposed to our values as Jews who work for the sake of the people of Israel."

Menachem Ben Shachar, 38, a relative of Ettinger, said the outreach effort has been unsuccessful because it doesn't address the youth's anger with what they see as Israel's ineffective responses to Palestinian attacks.

"Every time Israel fails in its real mission - defending the people of Israel - it creates a few more frustrated youths. There is no organization that can come afterward and try to extinguish the burning flame in the hearts of these youths," Ben Shachar said in an email exchange with The Associated Press.

Israel's Education Ministry says it spearheaded the Hebrew Shepherd initiative in 2013 to "offer an educational-welfare rehabilitative response to young at-risk boys and girls" in the West Bank settlement areas "as part of systemic efforts to eradicate the phenomenon of nationalist crime," according to a ministry document leaked to Israeli media.

In the document, the ministry's director general asked the Shin Bet and other government bodies to participate in the program's steering committee.

Hebrew Shepherd director Roee Simon declined a request for an interview, as did the Shin Bet. The Education Ministry also refused to comment despite repeated requests.

Although he left the program, Azulay says he still tries to engage hilltop youth. Three nights a week, the burly man with a bushy black beard packs his dusty red sedan with snacks and heads to the hills to meet with them. His background as a former hilltop youth, along with his firm handshake and contemporary Hebrew slang, give him credibility.

Azulay said the majority of the approximately 1,000 hilltop youth are middle-school and high-school dropouts ranging in age from 14 to 20 from cities within Israel, not the West Bank. Adverse to authority, they are drawn to the defiant spirit of the isolated West Bank hilltops.

Squatting on West Bank land to claim it as Jewish, they are furious with Israel's response to Palestinian attacks, Azulay said, leading some to take vigilante action against their Palestinian neighbors.

When the time comes for compulsory military service - their ticket into mainstream Israeli society - the army rejects them as too dangerous. Because social workers from one municipal area are not permitted to handle youth from another area, runaways in the West Bank fall through the cracks of the welfare system, Azulay said. He said settler rabbis are afraid to take them under their wing for fear of being accused of backing the violence.

Azulay said he tries to persuade the teens to stay away from vigilante violence so they don't ruin their chances of enlisting into the army. "Go be a pilot, drop a half-ton bomb on a group of terrorists," he said he tells the youths.

Another program piloted by a local settler council tries to rehabilitate hilltop youths by helping them pass matriculation exams and persuading the army to enlist them. It has shown some success at one hilltop outpost and is being expanded to another settlement.

An official in the Israeli prime minister's office said in the last five years, Israel beefed up its intelligence, police and law enforcement resources to deal with Jewish extremism. "We are augmenting our efforts because we see this as a challenge to our democracy," said the official, who spoke on the condition of anonymity because he was not authorized to discuss the matter publicly.

But former Shin Bet director Yuval Diskin said political will and public pressure are lacking in the battle to uproot Jewish extremism.

"Violent extremism is a social phenomenon with deep roots. Whoever thinks the Shin Bet, the military or the police can deal with it is mistaken," he wrote on his Facebook page.