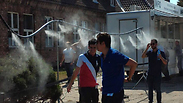 Israelis who visited the Auschwitz concentration camp museum in Poland on Sunday were shocked to discover that the museums' management had placed mist showers near the facilities entrance, in an effort to beat the heat. Anyone who saw the showers could not help get past the gas chamber connotation.

"As soon as I got off the bus I walked into the shower contraption," said Meyer Bolka, an Israeli visiting the museum. "I was in shock. It was a punch to the gut. I walked up to the reception and asked the worker there about the showers, she said it was a hot day. I told her: 'With all due respect it reminds me of the gas chambers,' she told me she is very sorry."

According to Bolka, Israeli youths who were visiting the museum used the mist showers to cool down, but the placement of the contraptions raised anger among the older visitors. "I think that in a place like this they should have thought about the type of connotation this would raise," he added. "If you want to cool the people down, you need to find another solution. It was not a pleasant sight to see those sprinklers."

The Auschwitz museum management responded saying that there was no intention to hurt the feelings of the visitors, but rather to make their visit more pleasant on one of the hottest days of the year. The Museum will assess the continued placement going forward.