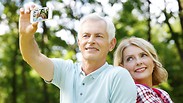 In spite of it all, Israelis are living longer (Photo: Shutterstock)
Life's hard in Israel, but new data confirms that Israel is among world leaders in length of life. A new study, which includes data for 188 countries, puts Israel very high on the rankings for healthy life expectancy.

The report also shows that even though most people around the world are living longer, they're also much sicker. The findings were published in the latest issue of prestigious medical journal Lancet.

Last year's report

The study's main findings show that overall life expectancy for both sexes has risen 6.2 years, from 65.3 years in 1990, to 71.5 years in 2013. However, life expectancy did not significantly rise in countries such as Syria, Belize, and Botswana. In several other countries, these figures even dropped.

For instance, in Lesotho (in southern Africa) and Swaziland, life expectancy in 2013 was 10 years shorter than 20 years before.

In the current study, researchers made a calculation they nicknamed "Healthy Life Expectancy," which takes into account not just mortality rates, but also years of life without terminal disease. This calculation gives an indication of a person's number of healthy years.

The longest healthy life expectancy was registered in Japan – 73.4 years on average. The lowest was in Lesotho – 42 years. Israel is sixth from the top, averaged for both sexes.
Men in 4th place, women in 10th
The latest study by the World Health Organization's (WHO) World Health Report (WHR) confirms that general life expectancy in Israel is among the longest in the world: Israeli men are fourth in the world with an average of 80.2 years, behind Icelandic (81.2), Swiss (80.7), and Australian (80.5) men. Israeli women are also doing well, being ranked tenth in the world in life expectancy, with even longer lives than the men – 84 years on average.

A combined calculation of women and men shows that Israel is in third place beside other countries: Japan is in first place, with a combined average age of 84 years. In second place are Australia, Italy, Singapore, San Marino, Switzerland, and Andorra with 83. Third place sees Israel stand alongside France, Spain, Sweden, Norway, New Zealand, Monaco, Luxemburg, and Cypress, with an average of 82 years.

"The world has made great progress in health, but now the challenge is to invest in finding more effective ways of preventing or treating the major causes of illness and disability," said the head of the research team, Professor Theo Vos from the University of Washington.

"The health status of the world's people has gotten better thanks to advances in medical technology, vaccines, medications, and improvements in obstetrics and infant care. But the healthy life expectancy hasn't improved, so people still live longer, but are also sick more often."

Central Bureau of Statistics (CBoS) figures indicate that life expectancy in Israel in 2013 was 83.9 years for women and 80.3 years for men. That's an increase of 0.3 years for women and 0.4 years for men, compared to 2012. The gap in life expectancy between women and men stood at 3.6 years in 2013. In the last decade, life expectancy has risen 2.9 yearsamong men and 2.4 years among women.

The CBoS found that life expectancy has risen 8.9 years for women and 8.7 years for men in the past 35 years. Mortality rates for the late 1970s show that only 33 percent of men and 43 percent of women born in that decade were expected to reach the age of 80. But since then there have been significant improvements, leading to the current situation, where 59 percent of boys and 72 percent of girls born today are expected to reach that age.

Israel's largest jump in life expectancy was registered in the city of Ramat Gan. The average length of a Ramat Gan resident's life is 82.7 years. Petah Tikva, Haifa, Netanya, Bnei Brak, and Jerusalem residents have slightly shorter average life spans – 82.1-82.2 on average. The CBoS emphasized that some of the differences between cities weren't statistically significant.

The figures indicate that compared to the 2005-2009 period, life expectancy rose in the 2010-2012 period in all major cities. The most significant rises were in Ramat Gan, Tel Aviv, and Haifa – 1.2-1.3 years on average. The average rise in major cities was 0.7 years. Bnei Brak has experienced almost no change through the years.

When measuring the life expectancy of the population as a whole (using 2012 figures), Israel is eighth among OECD countries (tied with Sweden), with 81.8 years on average. Japan is ranked first, with 1.4 more years than Israel, and 1.6 years over the OECD average.

An international comparison of life expectancies (using 2012 figures) shows that Israeli men keep their high standing with 79.9 average years of life. Their life expectancy is third among OECD countries, along with Sweden and Australia, 1.7 years lower than that of Icelandic men (ranked first) and 0.7 years lower that of Swiss men (second). Israeli men's life expectancy is 2.4 years higher than the OECD average.