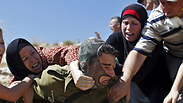 The clash in Nebi Salah
Photo: Reuters
LONDON - Two of Britain's leading newspapers have changed their coverage of a violent clash between an IDF soldier and Palestinian women and children after claims arose that the family involved in the incident, and particularly a blonde girl photographed biting the soldier, are known provocateurs.

On Friday, an IDF soldier trying to arrest a stone-throwing 13-year-old Palestinian boy drew international outrage after he was documented in a violent clash with Palestinian women and children.

Members of the Tamimi family, prominent Palestinian activists, physically attacked the soldier in an attempt to free son Muhammad Tamini, whose hand was in a cast.




According to the UK Media Watch, a pro-Israel website monitoring coverage of Israel in the British press, the girl who appears in the photos biting the soldier is Ahed Tamini, the daughter of Narimen and Bassem Tamini, who is known among Israeli supporters online as "Shirley Temper."

The blonde-haired girl became a symbol of the Palestinian resistance in international media and is often documented in confrontations with Israeli soldiers. Muhammad Tamini is her brother.

The website quoted Tamar Sternthal from CAMERA (Committee for Accuracy in Middle East Reporting in America) who said that the Palestinian village of Nebi Salah, where the incident occurred, is "where photographers gather every Friday to document repetitious scenes of Palestinian residents and international activists clashing with Israeli soldiers." The site noted this was where "activists often place their children in danger to score propaganda points."

The UK Media Watch said major newspapers like The Daily Mail and The Telegraph realized the incident was staged by the Palestinians in order to cause provocation.

The Daily Mail's original headline read: "Extraordinary moment that desperate Palestinian women fought and BIT an Israeli soldier after he put boy with a broken arm in a headlock at gunpoint."

Later, however, the story was edited and given a different headline: "Questions raised over shocking West Bank image of boy with a broken arm being held at gunpoint by an Israeli soldier after girl, 13, seen biting attacker is revealed as prolific 'Pallywood star.'"

According to UK Media Watch, "the term 'Pallywood' refers to the staging of scenes by Palestinian journalists in order to present the Palestinians as hapless victims of Israeli aggression."

The British Telegraph initially ran the story with the headline "Palestinian women wrestle Israeli soldier off injured small boy."

Later, however, the story was removed entirely from the Telegraph's website.

Leading British newspapers The Times of London and The Guardian did not cover the story at all, while the UK Media Watch said Channel 4 News, The Independent and the Daily Mirror - a tabloid - reported it "and largely followed the Pallywood script (the latter going with the headline 'West Bank Freedom Biter')."