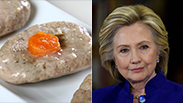 Clinton and gefilte (Photo: AFP, Shutterstock)
Washington - The US State Department approved the release of an additional 7,000 emails and conversations from former secretary of state Hillary Clinton's email server this week, as a result of claims that she threatened US national security by sending emails containing classified information on a non secure account.

Many journalists immediately dove into the stack of digital mail in attempt to find any sign of classified information, but emerged disappointed after reading through boring emails about Henry Kissinger, Clinton's new Ipad (and how her staff would teach her to use it on a flight to Kiev,) and of course gefilte fish.

One of the emails in the stack managed to awaken intrigue amongst American journalists, containing an interesting "dispute" between the US and Israel, unique in its failure to make headlines. The email, with a subject line bearing the name of the sweet chopped fish balls, was sent by Clinton to two of her senior aids on the 5th of March 2010, in which she asks, "Where do we stand with this?"

To Americans who are unfamiliar with the Jewish staple, the words "gefilte fish" sound like potential code words for some security crises. Why else would the Secretary of State write an email to her aids saying, "Where do we stand with this?"

The truth is however, much less scandalous. In the run-up to the Passover holiday of that year, a large shipment of fish needed to make the classic dish was on its way from Illinois to Israel. The shipment ended up being stuck in the port of Chicago due to a commercial dispute. As a result, Illionis Republican Congressman Donald Manzullo, asked Clinton whether she could raise the issue in a planned meeting that week with then Defense Minister Ehud Barak.

Hillary laughed and responded, "Out of all the problems that the US and Israel deal with, this problem we can probably solve."

Thus the anti-climactic end of "Gefilte-gate" left the American journalists hungry to continue their search for the next scandal.