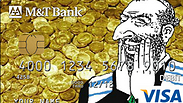 DNB Bank, the largest financial institution in Norway, has issued a credit card featuring a blatant anti-Semitic portrait.

The card, featuring a long-nosed Jewish figure wearing a tallit, with gold coins in the background, caused uproar online.

Incitement to Hatred?

European Jewish Congress considers taking legal action over caricature published in one of Norway's leading papers, which it says depicts circumcision in bloodthirsty-demonic manner. ADL slams 'distortion of a core Jewish ritual.'

The man who ordered the offensive Visa card is an Australian citizen living in Norway. He claims that when he got the card he was surprised to find out that its design didn't match his order.

The issue was brought to the attention of the Israeli Embassy in Oslo, which reached out to the bank's management, which promptly apologized to the ambassador, explaining that the bank has a system that enables clients to order personally designed cards, with portraits or pictures on them.

DNB claims that it has a mechanism for filtering out offensive images, but the anti-Semitic portrait somehow got past it. The bank explained that it issues a few million cards every year, noting it was an isolated incident, and that the picture was deleted from its database.

The bank's vice president said he was surprised to hear from the Israeli Embassy saying the client received the offensively-pictured card without requesting it himself.

He asked for the forgiveness of anyone who was offended and stated that the bank intends to issue an explanation and apology notice.

After the incident was publicized, the bank announced that the card in question would be cancelled, and a new one issued for its owner.

Its representative stated that the bank has strict guidelines about which photos can be uploaded, and that supervision is done manually. Unfortunately, he said, manual supervision failed in this specific case. He said that the card shouldn't have been printed under any circumstance.