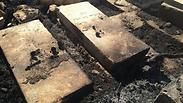 The defaced headstones
Photo: Joshua Wonder
A Jewish cemetery in East Jerusalem was desecrated and set on fire early Wednesday morning, leaving about ten tombstones smashed and damaged.

Trees and bushes in the vicinity of the cemetery on the Mount of Olives were also set aflame, in what the Fire Department says is arson.

Shortly after its discovery around midnight, firefighters were called to the scene and put out the fire, preventing it from spreading further.

Vandals and arsonists targeted the Pharisees plot, where Rabbi Nathan Mileikowsky, Prime Minister Benjamin Netanyahu's paternal grandfather, is buried.

The Mount of Olives has been plagued with vandalism, leading the Israel Police and the Border Police to increase their forces on the mountain. Police said the measures it took to further secure the area have led to a decline in the number of vandalism incidents, perpetrated by Arabs from East Jerusalem for nationalistic reasons, but noted that it was not possible to hermetically seal the cemetery, which spreads over 120 dunams, to prevent such incidents.

Joshua Wonder, who lives in Ma'ale ha-Zeitim, said he noticed the fire at around 11:30pm on Tuesday, and called the Fire Department.

"About ten tombstones were defaced - some broken and some burnt. It's very rare that it happens in this area. There are usually problems in the southeastern part of the cemetery - in the Afghan plot. This side is almost on the freeway, it's very rare there are problems here," Wonder said.

A month ago, members of the Knesset's Interior Committee toured the cemetery and harshly criticized the police, saying the vandalism on the mountain continues despite the fact police received the budget and the tools to deal with the phenomenon.

Deputy Commander of the Police's Jerusalem District, Brig.-Gen. Avshalom Peled, told them there has been a significant decline in the number of vandalism incidents in the cemetery and that over the course of the next four years, 160 security cameras will be put up, and more police and Border Police officers will be stationed there.

Police further said that while its activities in the Afghan plot helped reduce the number of vandalism incidents, several necessary moves - like the construction of a fence - are being delayed.