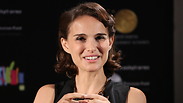 Portman at the movie premiere
Photo: Raphael Delouya
She was born in Jerusalem as Neta-Lee Hershlag, and today she is known all over the world as Natalie Portman. On Thursday evenings, these two identities - the Israeli girl and the Hollywood superstar - came together at the Jerusalem premiere of her new movie "A Tale of Love and Darkness," based on the bestselling autobiographical novel by Amos Oz.

Portman arrived in Israel with her parents for a short visit to attend the premiere, which was held in the Jerusalem Cinema City complex. They were joined by Portman's family members from Israel, former president Shimon Peres and Jerusalem Mayor Nir Barkat.

Amos Oz himself could not attend the premiere due to health reasons, but his wife and family came in his stead.

Ynet interviews Natalie Portman (כתבת : נעם קסל, עריכה: בן שפייר)

Peres, a good friend of Amos Oz, met with Portman behind the scenes. The two exchanged smiles, hugs - and quite a few compliments.

"You turned the charm of 'A Tale of Love and Darkness' into an expression of your love of Jerusalem and of Israel," the former president told the Hollywood star. "I'm proud of you for this movie, and I thank you. In my eyes, there is no doubt that this is not just a local story, but an international hit, and you recognized that."

Portman acts in Hebrew in the movie, and this was also the language in which she talked to Peres.

During their conversation, he asked her, "What led you to make this movie? What enchanted you?"

Portman responded in fluent Hebrew: "Amos Oz enchanted me. He is an amazing man, a lovely person, and reminds us, like you, that we can always hope to be better people and better Jews."

Portman had a hard time hiding her emotions at the event, hosted by Israeli actor Moni Moshonov, who also appears in the movie. When she took the stage to make a speech, her voice shook at times, and she even shed some tears.

"I am very honored to be able to screen this movie in Jerusalem," she said, once again in Hebrew. "Thank you to Amos and Nili Oz, who granted me this privilege of working with Amos' words and doing something a bit different, but still true."

The actress, who also made her directorial debut in this movie, also thanked the Israeli cast, and particularly Amir Tessler, who plays the young Amos Oz, and Gilad Kahana, the lead singer of the Girafot, who also appears in the movie as Amos Oz's father.

"Thank you to Amir Tessler's parents, who raised him to be an awesome kid," Portman said. "He's intelligent, he's nice, he has a good heart, he's a hard worker, he is a good person, he is a good brother, he's a team player. And thank you to my husband in the movie, Gilad Kahana, who is also lovely, a man of words and depth and music. And to my real husband, who is the loveliest of all."

She wrapped up her speech with allusions to the challenges she took on in her directorial debut - from the movie being entirely in Hebrew, to production challenges.

In the audience were those who took on these challenges with her, including David Mandil, who produced the movie along with Ram Bergman, distributers Moshe and Leon Edry, and the cast.

"Dreams can sometimes be disappointing," Portman said. "But we need to hold onto them to live, so please - don't let go of your dreams."

"A Tale of Love and Darkness" is Portman's first film as a director and screenwriter. It was filmed entirely in Israel, and Israel is also the first country in which it comes out in theaters.

After it was screened at the Cannes Film Festival, it was described in the international media as "Natalie Portman's love song to Israel."

Amos Oz's autobiographical novel was translated into 30 languages, and became one of the best selling Israeli works of fiction in history. It garnered a lot of praise from critics, and was even translated into Arabic and published in Lebanon.

The plot of the novel and movie center around Oz's childhood memories, while he was living in Jerusalem as an only child during the British mandate.