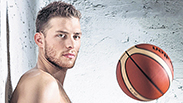 Gal Mekel (Photo: Gabriel Baharlia)
Each year, ESPN Magazine publishes "The Body Issue", in which top athletes ditch training uniforms in favor of birthday suits in a photo shoot.
Now, fourteen of Israel's most prestigious athletes take the plunge and appear in photographs inspired by the special issue – a first in the country.
Ariel Harush, 27
Soccer
Goalkeeper for Hapoel Tel Aviv and the Israeli national team.
Two Israel State Cups, Israeli Premier League
Idan Maimon, 41
Handball
Israeli Handball League all-time goalscorer
13 championships and 11 state cups with Hapoel Rishon LeZion.
Ma'ayan Shahaf, 28
High jump
Represented Israel in Moscow world championship, 2013; European Athletics Championships finals in Zurich, 2014; seven-time national champion.
Delila Hatuel, 34
Foil fencing
Two World Cup silver medals; sixth place in European championships, 2008; Beijing Olympics, 2008.
Gal Mekel, 27
Basketball
Playing for Serbian team Red Star Belgrade.
Inbal Pezaro, 28
Swimming
Shahar Zubari, 29
Windsurfing
Anastasia Gloushkov Leventhal, 30
Synchronized swimming
Donald Sanford, 30
400-meter dash
Alice Schlesinger, 27
Judo
Maor Buzalgo, 27
Soccer
Guy Barnea, 28
Swimming
Meirav Dori, 29
Women's basketball
Amit Ivry, 25
Swimming

ESPN has been publishing its yearly "Body Issue" for the past seven years, partially as an attempt to mirror and compete with Sports Illustrated's "Swimsuit Edition."