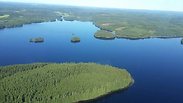 The island of Petäjäsaari
Photo: Ofer Petersburg
FINLAND - It is truly a strange story: Four young Israelis, who each made a quick exit in high-tech or real estate, bought a Finnish island. It's as simple as that.

The price: 450,000 euros. The goal: To build an Israeli colony on it. Officially, the island is known as Petäjäsaari, but already upon disembarking from the plane in the town of Kuopio, after a half hour flight from Helsinki, Finnish media report on "The Israeli Island," and television crews are wooing the four Israeli owners for an interview. And on the streets of Kaavi, from which we will sail to the island, people come up to them to shake their hands, some speak of Moshe Dayan, the most admired figure there.

"We don't have any Jews in Kuopio, and we have never had any," explains the old city historian Seppo Kononen excitedly, while the mayor, who prepared an especially festive welcome, adds: "We always wanted foreign investors here, and Israelis' reputation precedes them."

One would be hard pressed to say that the four - Aviad Scheibitz, Amir Weil, Moti Shemtovi and Asaf Giller- have a well-established reputation in Israel. In fact, they are almost entirely unknown. But in the quiet Finland there is a lot of excitement. Excitement, but also suspicion, at least from the media, which is wondering whether the four are actually straw men for oligarchs from Russia - the not-so-liked neighbor to the east - and asked outright: What the hell are four Israelis looking for here? Even the Mossad was brought up.

But for the average Israeli, there is no need for theories of espionage to decipher the pull of the island to real estate investors. In Finland, which has more than 100,000 lakes and no less than 188,000 islands, all of Israel's real estate problems sound like a depressing joke. There is a little over 5 million inhabitants who live comfortably in Finland on less than 340,000 square kilometers, with a huge supply of land and islands that one can buy for as little as 150,000 euros - so no one is really fighting over land here.

As if to prove the point, during the festive welcome at Kaavi's city hall, the four entrepreneurs receive good news: Their island grew by six dunams, and so now measures 170 dunams. "In these parts, there is underwater pressure from the Ice Age, and sometimes land rises above the water", the town geologist explains. "My God, what I would do for another six dunams in Israel," Giller sighs. "That's how it is here. After six or seven visits one starts to get used to the idea that land is not a rare commodity."
An island refuge
OK, land is great, but Finland? It was the brainchild Aviad Scheibitz, 39, married and a father of two from Hararit, who came to Finland for the first time with his wife on their honeymoon. "We have both traveled a lot, so we were looking for a place neither of us visited before," he says. "We fell in love with the country and stayed here for a month. When we went back to Israel, I bought us an 80-dunam peninsula for a little over 200,000 euro, up north."

Scheibitz says he made his money, millions in this case, by staring. "I find a spot at home and stare for hours, and then come up with some patent, mostly in the field of plastics," he explains with a smile. This is how he invented a patent for air-conditioners in cars, selling no less than 7.5 million units of it both in Israel and abroad. He recently sold his latest development to an international company for NIS 3.5 million. "I can't say what it is because of copyright issues, but everyone uses it every day," he reveals.

When he's not staring and inventing things, he is also an author who penned three books. Perhaps that is why he bought a peninsula for his family. After all, if you were going to stare, might as well do it in Finland. "It's a refuge for thinking," he confirms, "but I haven't started building yet, because I'm now focusing on the big island."

Amir Weil, 26, a bachelor from Tel Aviv who made an exit when he sold a startup of a search engine for social media, was not quite thinking about Finland, but he did have a dream about a quiet place. A dream, he says, that was born after doctors found a cancerous tumor in his body at the age of 21.

"From the age of 15, I have been volunteering in non-profit organizations for the needy, and all of a sudden I was the needy one," he says. "For a year I was lying in the hospital and at home, and kept imagining a pastoral, wonderful place that I could go to. Before I got sick, I had a very intensive lifestyle: I was working in high-tech, created a very successful startup, and barely slept. But the Almighty sent me signs and I decided to switch from high-tech to real estate," he says, and tells that alongside his work in real estate he also funds and directs the Et Laasot (A Time for Action), non-profit that helps 250 children with disabilities.

Shared friends introduced Weil, who could not shake off that dream of a quiet pastoral place, to Scheibitz, and they each brought in their business partners: Scheibitz brought in his attorney Assaf Giller, 36, married and a father of three from Beit Eliezer, while Weil brought in Moti Shemtovi, 38, who resides in Miami and is Weil's real estate business partner.

Together, the four started the Ecoland Group, and started looking for an unconventional destination in Europe, "with a stable and enlightened central government," says Giller.

"I was just in a very stressful time with a patent in the US and felt like I needed a quiet place from people and anything else that moves. That's how I remembered Finland, and offered the others to buy an island," Scheibitz says. "They were actually enthusiastic about it."
Like a fat, green drop
We take a 20-minute drive from Kuopio to Kaavi, from where we set sail to the island. Only 2.5 kilometers of lake water separate the shores of Kaavi from Petäjäsaari, which we saw for the first time from the plane. From above it looks like a fat green drop among the clouds, which are reflected in the lake's crystal clear water. The island's perimeter is two kilometers of rocky land that is still empty at this point – except for the fir, birch and pine trees, after which the island was named: "Petäjä" is pine and "saari" is an island. These trees, it turns out, are a big deal. Their number and quality are what determines the price of the island: An average tree is sold to a government company to be cut down for 50 euros. Multiply that with the amount of trees, add the value of the trees to construction, and you'll know how much the island is worth. And yes, in Finland, they have no problem with cutting down trees – they are used for construction, heating and for just about anything else, and there are still plenty of trees left.

How you get to the island is determined by the season: In the winter, the frozen lake is crossed with snowmobiles, in the summer, arrival at the island is only possible with a boat, and in the fall and spring – hovercrafts.

"We'll have to buy each of these, so visitors could have access," Weil says, as local media teams gather around the four, who cooperate even when asked to jump into the freezing lake water. "As long as we don't seem like a bunch of suits," Scheibitz says. "We're trying to put across a message of ecology and friendship here."

The planned investment, some six million euros, is supposed to cover the construction of the entire ecological infrastructure, including wooden cabins, trails, docks, compost services, and more.

"Those who want to buy will pay between 109,000 and 140,000 euros per house, depending on size," Shemtovi says, and clarifies that "there will be no construction using heavy tools. There won't be roads or sidewalks paved."

The planned tree houses will be 40-60 square meters each, and built on the island in accordance with forestry laws, some 15 meters from the shore. On another part of the island, a club house will be built for the inhabitants. It will be used as a community gathering place and include a small restaurant that will operate during the summer months, as well as a store selling basic equipment. The four entrepreneurs are also planning an ecological playground and a local park for hiking and other recreation activities.

Those seeking to get some air without getting far from home could travel to the nearby Kaavi, a lovely spot packed with small workshops and rural tourist sites. Music lovers will find an international annual blues festival here. The other tourism needs of the island home owners, if there are any, will be provided by Kuopio, one of the ten largest cities in Finland, which offers – on top of a long, beautiful coastline – quite a few festivals in the summer and attractions like Finland's Ice Marathon and the Ski Jumping World Cup in the winter.

But for the entrepreneurs, all of this is just a bonus. "The real investment is in having a private vacation cabin in Finland," Scheibitz says. "This is an investment in peace and quiet, a relaxing vacation, without cellular radiation and technology that won't give you any rest."

And what happens during the cold season, when the homes are empty?

"A ranger will guard the island's homes and nearby woods. But the percent of crime in Finland is low and the population is known as law-abiding."

We got a good demonstration of that point exactly when, after the fact, we find out that during our sail to the island we forgot to lock the trunk and left an open vehicle with bags and suitcases, a wallet with cash money, and smartphones. Nothing was stolen, but I was the only one who was surprised. Later, I'll be told that a store by the city hall leaves its merchandise outside at night, until the store is opened the next day. "This is how it is here," Kaavi's mayor says. "There's no crime here. We're too far away."
Following Nils Holgersson to Lapland
To the entrepreneurs' surprise, there are already those who are sold on the idea. Sixteen of the 40 planned cottages, they say, have already been sold to Israelis. Take, for example, Dan and Keren Weitz, 35 and 37 years old. He works in high-tech and is a skydiving instructor, while she is a reporter. Both decided to go for it – even though they've never visited the island.

"We thought about it a lot," Dan says, "and we eventually decided to find ourselves a quiet piece of land that wasn't crowded. A trip I took a year ago to Lapland had me convinced, along with the idea of an ecological village in nature."

Wouldn't you rather have an apartment in Israel?

"I have a small apartment in Tel Aviv that I was lucky enough to buy eight years ago, and we have been renting it out and renting a place ourselves in Ramat Gan. For a house on the island you need 100,000 euros. Where in Israel can you find an apartment like that? We're looking for an apartment in Israel, by the way, but I can't say we're optimistic."

How did your wife react when you came up with the idea of moving to Finland?

"She was a bit in shock, but I told her she will eventually thank me for the fact we have somewhere to escape to, because the future of this country is not certain. I believe we'll also rent it out to people interested in winter tourism once or twice a year. This is something very special."

So for you this is a real estate deal?

"Absolutely not. This is for vacation. It's not that I have too much money, but this is something very unique that I believe will be successful. Besides, give me one moment of 20 degrees Celsius in August, and I'll buy it."

And in return, you'll freeze solid in the winter.

"I asked a Finnish person how to deal with the cold, and he told me: 'There's no such thing as bad weather, only bad choice of clothing.'"

Tomer Edri, 33, who owns a company that produces corporate videos, married to 34-years-old Yamit, a teacher preparing students for the psychometric exam, and the father of a 2.5-year-old son, Yaar, is actually fantasizing about the Finnish winter.

"I can see Yaar and me making a hole in the ice, casting a line and fishing together," he says. "I travel a lot, and I happened to see photos of the place and I was captivated. The enchanting snow is what attracted me."

Isn't it a bit of a gamble, to buy a house without having visited the place?

"I believe in trying all kinds of new things, and it's not that expensive. In the end, I'll have a pretty cheap place to relax at. I did the math and found I'll return the investment within 10 years."

You've invested money in a chalet when you don't even have your own apartment. Weren't you concerned?

"It will be harder for my wife, but we'll get an apartment in Israel as well. It's just so much more expensive. Beyond that, the more I read, the more I realized I was buying my son an experience from another world, that he will get a lot out of. I have no doubt the entire family will get a lot from it. By the way, as far as the kid is concerned, we have a reason to go there this very winter."

Which is?

"What do you mean? Because of Nils Holgersson and the Momins."

Y., 50 years old, married and a father of two from a moshav near Nahariya, an engineer in Israel's security industry, also bought a cabin based on the postcards he saw.

"Yesterday I was at the beach near Achziv that inspired the well-known song 'A Night on Achziv Beach,' you know, 'the wind and the darkness and the water,'" he says. "There were plastic bags, trash and stray cats everywhere – disgusting, like most beaches in Israel," he goes on to say. "But Finland truly is a hidden gem. I kayak as a hobby and I convinced my wife to live an entire winter on the island in Finland."

That's quite a challenge.

"Yes. A bit of real nature, pure, the kind we forgot all about."

The four entrepreneurs, who plan on building homes for their families as well, admit that they are the ones most surprised by the response their island received.

"Truthfully? This is mad," Weil jokes. "Let's be honest: Building on an island, in a country that's not a big tourist destination, for Israelis, is not the most normal thing you can do. We thought we'd be able to sell a few cabins in Israel, and if that doesn't work, we'll try to sell some abroad. But we advertised among our friends and these cabins are being snatched up. We couldn't believe it was happening. This is what turns this whole thing into special and cool, having something from nothing."

Very cool, but I still don't understand how do you convince an Israeli to buy a chalet on a Godforsaken small island in Finland.

"Men are usually the ones fantasizing. They are very quickly captivated by the vision and the photos, like us. And then there's the test of convincing the wife. As soon as they pass that, it's a done deal."

How did your wives react?

"Shaked knows me and goes along with my crazy ideas," Scheibitz says, smiling, while Giller admits both he and his wife were a bit skeptical at first, "but after a few visits, you fall in love with the idea and realize something wonderful will come of it."
With the help of some chutzpah
The four bought the island from the local Lutheran church, and the agreement has already been signed, but it is still pending the approval of the local and national councils. The national council has never rejected decisions made by the local council, but this is the first foreign investment, so it is not yet a done deal.

"You should have seen the shock we encountered here when we said that instead of a few 200 square meter houses, we wanted to build 40 houses, 50 square meters big," Shemtovi says. "Real estate entrepreneurship is not their strong suit."

Israel's Ambassador to Finland, Dan Ashbal, says the reaction to the four entrepreneurs from the Middle East is reminiscent of the reaction in Israel in the 1960s. "When the Germans bought lands in Zikhron Ya'akov in the 60s – it made a whole lot of noise. The same happened here: There's a lot of suspicion, just like in any instance of foreigners buying lands. You have to remember Finland is the least toured and least known country in Scandinavia, so there's no doubt the is issue stirring up emotions among the locals, and it also has to do with the fact they don't like surprises around here."

Can you elaborate on that?

"There's something very predictable about Finland. This is a welfare state with an average wage of 3,500 euros a month and low-level wages for executives. There aren't a lot of surprises here. You know that at the end of March - beginning of April, the geese arrive, just like in the story of Nils Holgersson, six weeks later the chicks hatch, in September the wagtails come – and they always do. Based on the weather you know exactly when the cafés would open along the beach or the lake, a walking distance away from your house, and could set your clock based on when the ferry from Stockholm arrives. Real tranquility. Your daily routine is also very clear and unchanging, so much so that when a Finnish person encounters something out of the ordinary, he could respond with aggression. Into this entire equation, Israeli investors are coming, and the Finnish people don't quite know what to make of that."

"If you're living in the middle of the woods, you are against any outsider coming to your familiar surroundings," the mayor explains. "But I really love Israel, and the investment in the island is the best compliment I could get as a mayor."

What do you know about Israel?

"There are no Jews in this district and there never were, but we learned a lot about Israel at school and we know there's one lake there that Jesus walked on."

A reporter from the local paper actually sounds a bit worried. "Are extremist religious people going to come here too?" she wonders, and the four explain to her that so far, no religious person has bought one of the cabins – but if they do, they are welcomed.

"At the moment, there is no plan to build a synagogue here, but the wooden community center could definitely be used for that, and we already have a natural mikveh (ritual bath) – this entire lake," Weil, himself from a religious family, says with a smile. The four note that the company's regulations already say that 10 percent of the profits will be donated to charity.

There are currently 1,200 Jews living in Finland, mostly in Helsinki, and another 400 Israelis, mostly those who married Finnish people. There is no anti-Semitism there, we are told, and not a lot of Muslims either. "Most of the Muslims are Somali or Kurds," Ambassador Ashbal says. "During Protective Edge, there was one protest by several dozens of Muslims, and they were faced with a spontaneous protest of over a thousand Israel supporters."

One of these supporters was the head of the Israel-Finland Friendship Associations, an organization founded in 1957. He was very excited about the Israeli deal.

"I think it's a wonderful idea," he says in fluent Hebrew. "We have 750 Finnish, Christian and Jewish members in the community, and I plan on recommending that they buy homes in the Israeli island, even though I personally cannot afford it."

He notes that the Finnish government has been trying to encourage outside tourism for years. "Perhaps the Israeli chutzpah can bring tourists here."

Do a lot of people think like you?

"Generally, the Finnish people love Israel and in my opinion they're very happy the Israelis chose to invest here. In any case, we're trying to separate politics from business."
Bear meat, anyone?
The plan is to start building in a year, and the four are up to their necks in planning. Among other things, we visit a factory for wooden houses, accompanied by the mayor who also serves as a translator for the elderly owner, who doesn't speak English. The price: 70,000 euros per house, in case you were wondering. "And we're just on our way to IKEA," Weil adds, "to close a deal on furniture for the buyers."

Meanwhile, they are also looking for a local who will serve as a caretaker – to manage the matters of the island for managing fees paid by every inhabitant - 2,000 euros a year. These fees will provide the homeowners with transportation to the island, free use of all of the island's facilities, and the option of renting out their home to tourists while they're away.

"We'll have everything you could dream of," Weil says. "Fishing equipment, a sauna, a Jacuzzi, a boat house and more. People could come whenever they want, this is a home that belongs to them. Though, I promise there won't be any karaoke parties, for example."

"The Israelis keep asking me: What is the size of the lot we're getting?" Scheibitz says. "It makes me laugh, because we're basically talking about 650 square meters, but there are no fences, so actually, the entire island is yours. To those who insist, I simply say 'no, thank you.' We don't have to sell at any cost, and we've turned down a lot of people who were only interested in the return. I want a really small and good group that knows how to appreciate nature."

As we get ready to spend our last day in Kuopio, an urgent call comes in. It's the mayor of a small town three hours away in the direction of Lapland, near the Russian border. "I heard good things about you, and I want to offer you a private beach," she says. So we hit the road, which is covered in evergreen forests, crystal clear lakes and houses that have yards that stretch for dozens of kilometers.

When we get to the sleepy town at the edge of Finland, which only comes to life once a year for an international opera festival, we are met with the mayor, a nice elderly lady. "I've heard about Israel and about Jews, and I love and appreciate them a lot," she announces, and then gets down to business: "We have a luxury hotel, designed like a haunted castle, on a private beach owned by an elderly lady from Berlin. She heard about you and she's willing to sell only to Israelis, if you are interested of course."

On the way to the beach, the mayor tells us that the area is filled with wild bears, and that there's a good chance to encounter one while taking out the trash. Bear meat is a delicacy in local restaurants, she adds, and reveals that "the hunting season begins soon, and people from all over the world will come here to hunt bears." She too has a license to hunt bears, in case you were wondering.

The municipal beach is massive, and there are red cabins and three sauna houses on it. "There's a 100 dunam here that we'd be happy to sell you," the mayor says while pulling out a berry picking comb – an instrument that is as strange as its name. It is a giant comb attached to a bowl, which is used to gather the sweet fruit growing at every corner. She fills up a whole bucket of berries from the nearest bush.

The four Israelis express interest, and promise to come back on their next visit to the country. That offer, they say on the way back, was not unusual. "Since our story appeared in the press, we are courted by mayors from all across Finland, and it's clear to us the island is not our last investment," Weil says. "Finland has captured our hearts."

Somehow, and despite the Finnish people's natural suspicion, it appears this love is mutual. On our way to the airport, as we stop for gas, the gas stop owner approaches us and asks, "Is this Hebrew you're talking?" And when we say yes, he says, "Listen, there are Israelis here who are buying islands. If you see them, tell them 'well done.'"