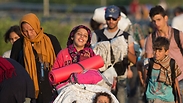 Refugees in Hungary. A human tragedy, but no crisis
Photo: Getty Images
I had a dream: I hear knocking on my door in the middle of the night. I peek through the eyehole and see behind the door a long line of people in tattered and worn out clothes from hardship on the roads, some carrying toddlers and children on their shoulders and in their hands, their faces full of exhaustion and anger, seeking compassion.

If I open the door, they will flood my apartment, fill the house with words in Arabic and a Muslim prayer. If I don't open the door, they will remain behind it, hungry and thirsty, their children crying bitterly. A raging sea of refugees.

Migrant Crisis

Op-ed: The refugee crisis in Europe is, strangely, giving new life to old borders. Not long ago, Europeans condemned Israel for building fences; now they are learning from us. In Israel, people complained that there was no policy; this week, Hungary changed its policy on a daily basis.

I woke up sweating. There was no one behind my door. Not yet.

Israel is watching what is known as "the refugee crisis in Europe" with a mixture of sharing in grief and malicious joy. Grief over the refugees, (restrained) joy over the exposure of the hypocritical Europeans' face.

Correspondents of television channels from Israel are reporting with shock on the heart of stone of the governments, which are locking their gates to prevent the poor refugees from entering, on merciless police officers and on the death raging on the escape routes from the Middle Eastern hell to the European heaven.

The descriptions and images tell the story of a human tragedy, but there are also dry numbers, and according to those numbers there is no refugee crisis in Europe. The European Union's population numbers 500 million people. If all 28 EU member countries meet their commitments this year without leaving a single refugee homeless, they will be taking in an average of 80,000 refugees a month: 0.015 percent of the EU's population. That's not a crisis, not a flood and not a demographic danger.

There is no real economic problem here either: The absorption of a million refugees in the EU countries will require an investment of €50 billion (about $55 billion) – only 1 percent of the EU's annual product (€19 trillion). That's pocket money, which pales into insignificance compared to the future economic contribution of a young working population to the aging Europe.

Europe is not being threatened by an economic or demographic refugee crisis, but by a political crisis reflecting the rise in power of the different populist movements. As usual, these movements are looking for scapegoats, looking for someone to blame for "the situation." Sometimes they blame the bankers, sometimes the rich people, sometimes the Jews (even if they are physically absent), sometimes the professional associations, sometimes the local Muslims, and recently they are blaming the refugees from the Middle East and Africa.

The loud populism has turned the not-so-big number of refugees, which the EU has no practical problem taking in, into an intimidating flood at Europe's gates. That's nonsense, but it creates efficient intimidation.

An unbearable refugee crisis is taking place exclusively in the Middle East, in our area. The civil war in Syria – with a death toll of about 300,000 people so far, at least 15,000 of them children – has driven millions out of the country. According to estimates, the small Jordan has already taken in some 700,000 refugees from Syria and hundreds of thousands from Iraq, and Lebanon has taken in at least 1.5 million. In these countries there is really no more room for a single asylum seeker.

And this is where my nightmare begins. What if tens of thousands of people arrive tomorrow from the battle and oppression areas in Syria and Iraq at border in the Golan Heights, seeking refuge in Israel? What if they knock on our gates, take the risk and climb the fences with their crying children in their hands? What if they prefer to live in an enemy country than die in a whirlpool of war and terror or on escape routes?

In the blink of an eye, a refugee crisis could arrive at Israel's doorstep. When that happens, it will be interesting to see how our ministers and commentators respond when CNN broadcasts heartbreaking images of an exhausted refugee family at the Golan border, begging confused IDF soldiers with cocked weapons to allow it to run for its life into the Jewish state.

Let's lower the rebuking moral tone towards Europe and prepare for the definitely not trivial possibility of lines of refugees at our doorstep.