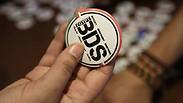 About two months ago, Professor Eugene Kontorovich stood before a special US congressional committee and laid out what he sees as the irrationality of boycotting Israel.

Kontorovich, 40, is considered a world-class expert in constitutional and international law, and deals mainly with the issue of international boycotts. Kontorovich said the committee members sought deeper understanding of boycotts against Israel and so invited him to speak.

The professor delivered a comprehensive overview: Among other things, Kontorovich detailed a series of laws legislated in the US in the 1970s, which stated that Arab League pressure to boycott Israel should be rejected. At the end of the meeting, says Professor Kontorovich, the committee expressed unequivocal opposition to boycotts of Israel.

"The problem is that now the boycott is not led by Arab countries, but by the European Union," he explains. "Still, the Americans listened carefully, and I am convinced that my words convinced them that boycotting Israeli companies' goods is a move that is dangerous for the free world no less than for Israel."

Kontorovich is at the head of the department for international law at the Kohelet Policy Forum, a Jerusalem-based non-profit dedicated to the Jewish people's right to an independent state in Israel. He speaks with passion and deep conviction about the injustice against Israel and how some countries, mainly in Europe, boycott Israel, while terrible crimes occur in other countries without raising any opposition.

He provides the example of the Sochi Olympics in Russia a year and a half ago, which were not boycotted by any country, despite its invasion of Crimea and domestic human rights violations.
Seeing the miracle
He was born in Kiev, Ukraine, and moved to the US with his parents at the age of three. His father is an economics professor, so the academic career path was a given for him. He studied law at the University of Chicago and began teaching there at 26. He then clerked for Judge Richard Posner on the United States Court of Appeals for the Seventh Circuit. "He was a teacher for life," he says.
Kontorovich decided to move to Israel with his wife and four children four years ago. His family was immediately taken in as olim, but later the professor was asked to present Ukrainian documents to prove his eligibility for the law of return. "This is what's asked of Jews born in the Commonwealth of Independent States," he explains.
"The problem is that my family and I couldn't get documents when we left Ukraine. I'm sure that things will work out in the end."
When I asked why he decided to give up a prestigious position in the US and move to Israel, he looked at me like he didn't understand the question and pointed at the spectacular view of Jerusalem outside his window.
Then he said: "There are many reasons for it, but mostly I love being here. This is a great place for kids, a beautiful place, excellent weather and the coffee is wonderful, but more than anything I wanted to be part of a unique historic event, a human social experiment – establishing Israel."
You're late. The War of Independence ended a long time ago, and the country has already been established.
"The War of Independence is not over yet," he replies, "and I'm happy to be part of the miracle. I'm also happy that I could put my kids in a good place, in the front row, so they can see this miracle occur. Something like this happens once in 1,000 years."
He makes sure he teaches at least one semester a year in the US. Besides that, he writes pieces for the Wall Street Journal and the New York Times and speaks at various fora in Israel and abroad on the subject of boycotts against Israel. He writes many of his articles with Professor Avi Bell, a senior fellow at Kohelet Policy Forum and a lecturer at American universities. "I consult about international law for anyone in Israel and abroad," Kontorovich says.
Is there demand for your consultations in the Israeli government, too?
"We get requests for consultations from the Prime Minister's Office and the Foreign Ministry," he says. "There are also ministers who come to us. I'm sure we will only be able to successfully overcome the boycott with the help of international law. Only if we give international commercial companies tools to allow them to do business with Israel will we be able to overcome the boycott."
According to Kontorovich, Israel has become a country that's easy and convenient to oppose, and that's why it receives a much harsher treatment than other countries. "Morocco, for example, is conquering the Western Sahara and terrible things are happening there," he notes. "Why isn't BDS against it as well? The same bodies that will not give money to settlements continue to give money to Morocco. One of the reasons is that it's easy to demonstrate inside Israel itself."
What do you mean?
"Let's say you are a human rights activist, and you want to express your positions but you don't want to die for them. In this case, you'll come to Israel, shout a little, they'll interview you, you'll give academic lectures, and you are successful, you will become a human rights celebrity in certain circles. If you try to do the same thing in Rabat, Morocco, that will be your last lecture. Israel is too soft on protesters and that makes them come here."
So what do you suggest doing about these protesters?
"I have no magic formula, and I also don't know if anything can be done. The problem is that Israel is a democratic country with a tendency towards advanced self-criticism. That is not an obvious thing, and it's certainly not the case in many other countries."
.
Business in occupied territory
To Kontorovich, Europe is inconsistent, and this angers him. "Europe's treatment of Israel is not similar to its treatment of conflicts in Azerbaijan, Morocco, or Cyprus," he says.

"When the Europeans who support the boycott say they have nothing against us, it amuses me, because it's obvious they are suiting their behavior to the situation and are inventing new rules to match the reality they create for themselves.

"For example, the international bill calling for a boycott of companies in settlements: In all my papers on the subject I note that according to international law, the meaning of 'occupation' is government activity in the area and troop activity on the ground. According to this definition, Israel is not occupying Gaza or Area A (of the West Bank)."

In the last year he has taken on the task of turning the tides and convincing companies in the US and Europe to refrain from doing business with companies that boycott Israel. "This trend is growing," he says.

He is also attempting to advance legislation in the US that would establish that sanctions against Israel be seen as damaging to international trade law. "Our goal," he explains, "is to use every legal tool we have to undermine the boycotting of Israel."

Isn't that the government's role?

"I'm not a big fan of those who sit and criticize the government. The members of the governments are politicians, and they have their party members. I'm an expert in international law, so my job is to give advice on the subject and emphasize what's important and what isn't."

What is important?

"The protests on campuses are the least important. They're unpleasant and noisy, but not dangerous. The subject of financial companies is more interesting. A company wants to make a profit, and it's hard to convince them not to do business in a place where it can profit. These companies will look for any way to work here if they decide it's financially worthwhile.

"Therefore, the worst thing of all is government boycotts. The steps European countries are taking are the most concerning. We cannot convince the Europeans that if they hit us, it will hurt the two-state solution and not help the Palestinians, although they understand that themselves. They like to think the boycott will expedite negotiations, but are very aware that there's no relation between the boycott and diplomatic negotiations."

But the entire boycott policy is based on occupation and the lack of negotiations between the two sides. How can you say they are unrelated?

"The boycott has no relation to the Palestinian issue. The boycott is trying to conceal the fact that they are boycotting simply because they don't want Israel to exist. Israel can win this war, because there is no international law that forbids doing business in an occupied territory or with an occupying country. Therefore, even if you are a European who thinks this is occupied territory, there's no reason not to do business there. That's what we base our entire position papers on."

He cannot overcome his anger about what he sees as the world's two-faced attitude towards Israel. "Take the Orange company for example, whose CEO expressed support for pulling out of Israel, and backtracked and apologized after public protest. That same company has extensive activity in the Western Sahara, which is occupied by Morocco. I didn't hear him speak out against doing business there."

Professor Kontorovich notes with approval the firm stance adopted by Jewish-American rapper Matisyahu, who recently refused to cave in to threats that a Barcelona show would be canceled if he didn't express support for a Palestinian state. The show occurred in the end, and the rapper criticized the boycotters.

"He did the right thing," says Kontorovich, "but who wants to come to a party where he isn't wanted? The problem is that these events will not change a thing. Even if there isn't a concert by a Jewish rapper, even if Israeli artists don't participate in a theater festival, Israel will continue to exist. If there is damage to business and tourism, that's dangerous. That's what it's important to fight against."

What do you think about the rift between Prime Minister Netanyahu and President Obama over the Iran nuclear agreement?

"Obama says the agreement will bear his name forever, but I'd like to remind him that he's serving in this role for only another year and a half, and there's no telling what the presidents after him do. If Israel doesn't fight now, it will be very difficult to fight later.

"Every country has a right to express its opinion, and thus help members of Congress to form their positions. It's a fact that there is a public argument about this subject within the US as well, and it's good that the prime minister is saying what he thinks. Even if he doesn't succeed in this struggle, it's important for his voice to be heard and for things to remain clearly documented."

Kantorovich follows events online. He has no television, and during his scant free time, he studies Hebrew and reads the works of American poet T. S. Eliot and Jewish-Russian poet Joseph Brodsky. When asked how he defines himself, he has a complex answer. "I am Israeli, a man of the world, Jewish, American," he says.

"Conceptually, Jewish identity is at the top of the list, because there were Jews before Israel was created, but as far as I'm concerned, Israel is the next stop in my life and so it is number one on my list of identities.

"Israel is the product of Judaism and Zionism, which gave themselves the goal of bringing the eight million Jews of Europe to Israel. Two thirds were killed, and the remainder went through torture. Think about how the country would look if they had allowed all eight million to arrive."