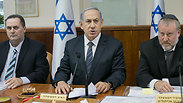 Israel's politicians converged in a war of words Sunday, some against and others in support of remarks by opposition leader Isaac Herzog Saturday calling for Israel to offer asylum to Syrians fleeing from a country destroyed by continued civil war.

"Israel is not indifferent to the human tragedy of the refugees from Syria and Africa," said Prime Minister Netanyahu at a weekly cabinet meeting. "But, Israel is a small country, a very small country that lacks demographic and geographic depth; therefore, we must control our borders, against both illegal migrants and terrorism.

Herzog quickly took to social media with his response, accusing that those opposed to his idea "have forgotten what it is to be a Jew, a refugee, hunted."

Herzog continued, "The Prime Minister of the Jewish nation can't close his heart and the gates when people are fleeing for the lives, pursued by hunters, with babies in their hands."

Netanyahu cited however, that Israel has taken multiple steps in aiding those suffering beyond its borders.

"We have already devotedly cared for approximately 1,000 wounded people from the fighting in Syria and we have helped them to rehabilitate their lives," said the prime minister. "We are speaking with African heads of state, and with the Italian Prime Minister recently and with other European leaders, about multi-lateral aid packages for the countries of origin in Africa – in agriculture, economics and security – in order to deal with the problem at its source."

In his response, Herzog made it clear he was calling for a limited number of refugees to be allowed into Israel on humanitarian grounds, but claimed that Netanyahu's policy of keeping asylum seekers out of Israel had Menachem Begin, who took in Vietnamese refugees during his time as prime minister, turning in his grave.

The suggestion to accept Syrian refugees into Israel began with Yesh Atid MK Elazar Stern who publically called for similar steps as Herzog due to the current refugee crisis sweeping through Europe.

Other politicians weighed in on the feud Sunday including Intelligence and Transportation Minister Israel Katz who criticized Herzog and suggested that he volunteer to take refugees into his own home.

"This is a populist suggestion," said Katz. "Israel has been on the front of humanitarian aid for years already... We need to be careful and we need to know where to draw the red line. We aren't a European country. We are too close and too involved."

Palestinian President Mahmoud Abbas made remarks similar to Herzog's Saturday, saying Israel should allow Palestinian refugees from Syria to take refuge in the West Bank - an idea that Katz and Israeli politicians also shot down.

"What I said about Israel is true to the Palestinian Authority as well, said Katz."