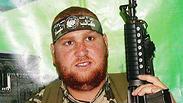 A fighter in Hamas's naval commando unit in Gaza has drowned during a training accident near the beaches of Beit Lahiya in the Gaza Strip, the terror organization's military wing, the Izz ad-Din al-Qassam Brigades, announced Sunday.

The dead Hamas commando is Sahar Nabil al-Bahri, 27, from Beit Lahiya. In a strange coincidence, the meaning of name al-Bahri in Arabic is "naval".

Hamas' naval commandos are believed to be well trained and well equipped. Furthermore, the IDF believes the Hamas commandos have learned their lesson from the failed attack on the IDF base in Zikim during Operation Protective Edge, and are already planning their next terrorist attack through the sea.

Over the past year, the unit has doubled in size, and now has dozens of trained, young, motivated fighters, ready to exploit the underwater fronts in order to mount a strategic attack on Israel during the next round of Gaza battles.

The unit's basic training consists of a structured fighting theory, which was probably not adjusted after the Zikim incident.

Many in the defense establishment estimate that Hamas will put its commando forces into use again in the next war, this time more efficiently and successfully, in such ways as diving and reaching the power plant in Ashkelon, just four aerial kilometers from northern Gaza – a range that Hamas divers, wearing the advanced equipment that was found on those killed in the Zikim attack, could definitely cross without detection.

Another possible attack includes swimming to somewhere between Ashkelon and Ashdod, quietly approaching the beach, and launching rockets at commercial vessels headed to the Ashdod port. Such an attack would stop naval commerce with Israel for the duration of fighting.

Estimates say that operations such as that would be executed by a large number of fighters, while a massive barrage of rockets fired at Israeli towns bordering Gaza will serve as distraction – an element which was not implemented in Zikim.

Hamas is also expected to take advantage of an innate advantage that the underwater front has over the use of tunnels. Unlike the underground space, which has one or two exit points, Hamas fighters can exit the sea into the beach at any point they choose, which would make them difficult for the IDF to detect.