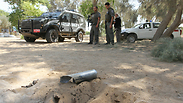 Short-range mortar (Archive)
Photo: Ido Erez
A new radar system will improve the warning time given to Israelis living near the Gaza border before a rocket strike by 7-8 seconds, potentially saving countless of lives.

The IDF's Southern Command and defense firms have recently finished installing the system, and it will likely become operational in the middle of next month.

Improving the warning time has been a grave problem the defense establishment has been dealing with for many years, and particularly since last summer's Operation Protective Edge, that saw thousands of rockets rain over Israel - many of them short-range mortar shells that hit communities adjacent to the Gaza border.

So far, residents in these communities only had five seconds from the moment the Code Red rocket alert siren was sounded until the rocket hit. Now, they will have 12-13 seconds to run for cover.

Because of the short warning time, mortar shells claimed the lives of both civilians and soldiers in the 2014 war, including Dror Khenin, who arrived at the Erez Border Crossing to distribute food to the soldiers deployed there, four-year-old Daniel Tragerman from Nahal Oz, Ze'ev Etzion and Shahar Melamed from kibbutz Nirim, who were killed in the operation's last hour, and several soldiers killed when mortars hit IDF gathering areas in two incidents.

Meanwhile, the Southern Command completed the planning stage of a project to build a "smart fence" around the Gaza Strip, and now awaits the final approval of the Defense Ministry to budget the project.

The fence, similar to the one built on the Egyptian border, will include advanced technological systems. It will be installed along the border, starting with the most threatened areas.