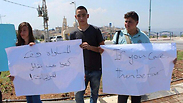 Arab schools in Israel went on strike on Monday morning in solidarity with Christian schools that have been on strike since September 1 in protest of budget cuts to education in their sector.

The strike was announced by the National Arab Parents Association and the National Committee for the Heads of the Arab Local Authorities in Israel.

"We declared a strike in all Arab schools to protest the budget cuts and the inequality and disrespectful treatment of schools in the (Christian) sector," said the head of the Arab Parents Association, Attorney Fuad Sultani. "33,000 (Christian) students have yet to begin the school year, so we decided to put half a million Arab students on strike as well as a show of support and solidarity."

Sultani went on to say that, "We won't allow the government to continue its discriminating and racist policy against our children, who have been suffering along with the entire sector from ongoing neglect. It is time to put an end to that. I think it's time for an 'educational intifada.'"

Christian schools welcomed the Arab sector's move, noting: "We are determined not to resume school until the government meets our demands."

According to a headmaster of a Christian school in Shefa-'Amr, primary schools in the sector were "receiving a very small budget compared to state schools and ultra-Orthodox schools. They prevent us from participating in any of the new reforms, withholding training for our teachers. We're asking for help so we can get what we deserve, like the other students in Israel."

Christian schools representatives said they've had long and numerous discussions with government and Knesset representatives for a year and a half, and even negotiated with the Education Ministry, to no avail. They say the Education Ministry's proposals do not solve the funding issues.

Another Shefa-'Amr headmaster said the Education Ministry was making them choose - "we could either become a school for rich people only, and have every parent pay 15-20,000 shekels a year, or we close our schools down."

At a middle school in Tira, teachers who came to work on Monday morning found that the students stayed at home.

"We've been here from the morning hours, but none of the students show up," said headmaster Amin Mansour. "I think this struggle is justified because we're all on the same boat and don't get the appropriate funds to advance our education. We lost another day, but I am still hopeful the authorities will talk to those in charge and budget the schools properly."

Qalansawe mayor Abdel Baset Salame said the fight was for the sake of the students, "and that's why we need bigger budgets so we can deal with all of the difficulties we are facing. The education system in the Arab sector has been suffering from neglect for years, and it's time we see some positive changes."

Raneen, a student from Nazareth, said this morning: "The Education Ministry is irresponsible. Instead of supporting us, they're trying to destroy our schools. We won't let anyone hurt our education. It is our right to study at advanced schools and we're all supporting the strike and justified struggle. We're ready to miss out on an entire school year for our schools. The Education Ministry is being stubborn, so we will also be stubborn until we achieve our main goal."