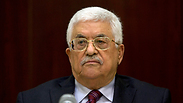 Palestinian Authority President Mahmoud Abbas
Photo: AP
RAMALLAH - The Palestine Liberation Organization on Monday postponed its internal leadership elections, two PLO officials said, in a move that reflected growing internal disarray and dealt a blow to Palestinian President Mahmoud Abbas.

The two officials said the last-minute postponement came because of insufficient time for preparations for the vote, initially set for next week.

Abbas had called a meeting of the PLO's parliament, the Palestinian National Council, for September 14 and 15. The council was to elect a new PLO leadership body, or Executive Committee. Critics have alleged Abbas wanted to use the hastily arranged session to sideline rivals and promote loyalists.

The current Executive Committee met on Monday and decided to put off the meeting of the PLO parliament, said participants Saleh Rafaat and Ahmed Majdalani. The committee did not set a new date, but signed a letter to the head of the PLO parliament, asking him to convene it before the end of the year, Rafaat said.

The PLO parliament has more than 700 members, including many in the Palestinian diaspora. A quorum of two-thirds is needed for a session and there was concern it could not be met, said Majdalani.

Meanwhile, the Popular Front for the Liberation of Palestine, one of the larger PLO factions, decided to boycott the parliament meeting for lack of proper preparation, Rafaat said.

The PLO parliament was also to have voted on possible shift in Palestinian policy.

Abbas has hinted that at his speech at the UN General Assembly later this month, he would announce a more confrontational approach toward Israel's right-wing government, following years of stalled negotiations on the terms of Palestinian statehood.