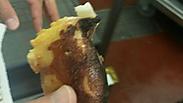 Kashrut supervisor were horrified to find calamari heads hidden inside containers of kosher cod fish.

A catering company in the Beit Shemesh area, which supplies hundreds of meals a day, found the calamari heads inside a shipment of frozen cod fish from Tnuva.

The top layer in one of the boxes was cod fish, with calamari hiding underneath, while other boxes contained only calamari. All of the boxes were clearly labeled as "cod fish" and had a kosher stamp of approval.

When first opening the boxes, the caterers and kashrut supervisors thought the fish and its color looked suspicious. But it was only after it had been defrosted and its preparation was underway that the kitchen workers realized it was not cod at all, but calamari - which is forbidden according to Jewish dietary laws.

Rafi Yochai, the head of the Chief Rabbinate's kashrut enforcement and fraud department, said the mistake made all of the kitchen utensils and dishes used in preparing the "fish" non-kosher.

After receiving the report of the unusual incident, Rabbi Yoachai sent an urgent warning on WhatsApp to all of the kashrut supervisors in large kitchens that are supplied with cod fish from Tnuva. He said the wrongly labeled boxes only got to large institutions and not to private consumers.

Yochai stated that such a mistake could happen in the sorting stages in factories abroad. "Once every few months we get a report like that," he said. He also praised Ze'ev Whitman from Tnuva, "who immediately acted to rectify the mistake."

Tnuva said in response: "A hitch occurred with the supplier in South America. We warned the supplier and the factory that if immediate steps are not taken to avoid further mistakes, we won't continue buying fish from them. This is a product that isn't usually sold to private consumers."