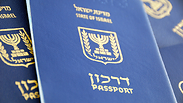 Israeli passport
Photo: Shutterstock
The African National Congress, the ruling party in South Africa, is considering the possibility of changing the country's policy of dual citizenship in order to prevent South African Jews from making aliyah and joining the IDF, reported the local Sunday Times.
According to the report, if the policy is changed it will affect every South African citizen holding another citizenship. The issue will be up for discussion at the general council of the ruling party next month. The party's step has already sparked criticism from Jewish groups in South Africa.
South Africa has been considered in recent years to be a very fierce critic of Israel, and many of its leaders and its citizens equate Israel's actions against the Palestinians with the conduct of the apartheid regime in South Africa until its collapse in the 1990s. Anti-Israel sentiment also lies in the fact that it maintained good relations with the racist apartheid regime, unlike many countries which boycotted it in order to bring about its downfall.
Numerous campaigns are held against Israel, especially to boycott Israeli products. A year and half ago, Maite Nkoana-Mashabane, South Africa's Minister of Foreign Relations and Cooperation, announced that her government's ministers were not visiting Israel in solidarity with the Palestinians.
"We have agreed to slow down and reduce our contacts with the Israeli leadership until things start to look better," she explained. "The struggle of the people of Palestine is our struggle. The Palestinian embassy receives 100 percent of South African support."
In June 2013, Ismail Coovadia, former South African ambassador to Israel, sent a letter to pro-Palestinian activists and wrote that Israel discriminates against Palestinians in a manner reminiscent of apartheid.
The last conflict between Israel and South Africa occurred five months ago, when then Foreign Minister Avigdor Lieberman harshly attacked South Africa's Communist Party for coming out against Israel following the Israeli Foreign Ministry's denying a South African minister a visa to travel to the Palestinian territories.
Lieberman said that the words of the South African Communist Party were pure hypocrisy and he recalled the racist events that took place against foreigners in South Africa a few weeks before.