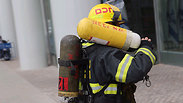 Israeli firefighter
Photo: Motti Kimchi
The Israeli Fire Department has reported a sharp increase in violent attacks against its firefighters in East Jerusalem over the past two years.

"It's dangerous, and it's mostly sad, and a shame," a source in Jerusalem's Fire Department said. "We come to rescue civilians, and their neighbors attack us with serious violence."

Firefighting teams answering calls in East Jerusalem face barrages of stones and Molotov cocktails, violent physical attacks, spitting and verbal abuse.

Only a few dozens incidents were reported in 2013, while in 2014, the number of reported incidents has surpassed 100. In the first half of 2015, meanwhile, over 70 violent incidents have been reported already - mostly in Isawiya, Shuafat and Beit Hanina.

Firefighters were wounded in several incidents and required medical treatment and, more often, damage was caused to fire trucks.

According to the Fire Department, the escalation started in the summer of 2014 - after the kidnapping and murder of the three Israeli yeshiva students, the murder of Palestinian teen Mohammed Abu Khdeir and Operation Protective Edge in the Gaza Strip.

Last week saw two serious attacks. In the first attack, stones were hurled at police and firefighters who arrived in Isawiya to rescue people trapped on a burning roof.

"We noticed a mother and her children on the roof and heard them crying for her," said firefighter Yitzhak Shimon, who commanded the rescue mission. "The firefighters went into the fire and smoke and in a short while rescued them and another person who was there, meanwhile the residents started throwing stones at us."

The second attack happened on Saturday night in Shuafat, when four firefighting crews entered the neighborhood to put out a fire. They soon saw the fire was a small one, which was mostly out even before they got there. As they were preparing to completely put out what was left of the fire, however, dozens of the neighborhood's residents gathered around them and attacked them, hurled abuse at them, spat on them and threatened their lives.

Two police patrol cars that arrived at the scene tried to stop the attackers, but due to their great number and the danger to the safety of the firefighting teams, the forces decided to withdraw.

"Our job is saving lives and property, we do the most we can do without discriminating based on race, religion and nationality," said the Jerusalem Fire Department's operations officer, Shlomo Schneider. "It's only a handful of people who don't understand the important work we do."