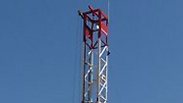 נפט אפק הגולן קידוח גולן
Photo: Picasa
An oil reservoir has been discovered in the Golan Heights, Israeli energy company Afek officially revealed on Monday.

The company, which previously only hunted at the discovery, on Monday requested permission to drill additional wells in the area.

"Initial findings from the drilling confirm the discovery of an oil reservoir in the Golan and further justifies continuing the exploration program," said the request. "We need more time for this."

In recent months Afek, a subsidiary of American company Genie Energy, has been drilling for oil in the Golan Heights. Its request to search for oil in the area was controversial.

Numerous environmental organizations, like the Israel Union for Environmental Defense and the Society for the Protection of Nature in Israel, as well as governmental bodies like the Nature and Parks Authority, opposed the initiative, saying drilling could endanger water sources and cause environmental damage to the Golan Heights.

Following the initial drilling, the company declared there was evidence of hydrocarbons, which suggested the presence of oil or gas in some form, and that the results match the geological theory the company was using. At the end of the initial drilling, the company reached the conclusion that there was liquid oil at the site.

According to the theory followed by Afek's geologists, led by Dr. Yuval Bartov, a large oil reservoir was formed by oil shale undergoing a rapid natural process.

The company, which is currently in the middle of drilling its third well in the area, refused until now to confirm its findings. On Monday, it submitted its request for further drilling. It said had abided by all the conditions imposed on it and has caused no environmental damage.

Afek claimed its request involved 10 different drilling wells, which could not be explored during the year allocated by the planning committee.

Despite the company's announcement, until actual production is attempted at the site, there is no way to know the size of the reservoir – or whether the reservoir is one that could produce oil in an economically viable way and what the quality of the oil is.

If it is proven that the site is appropriate for producing oil efficiently, a long social and environmental debate is likely to rise regarding whether the site is worthy of long-term production, and how much it might endanger the entire region and the Sea of Galilee.