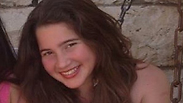 Friends and family of 16-year-old Shira Banki, who was fatally stabbed at the Jerusalem Pride parade in July, gathered Tuesday in the cemetery in Kibbutz Nahshon to mark the thirtieth day since her death, in accordance with Jewish traditions.
Among the attendees was police commander of the Moriah sub-district, Brig.-Gen. Kobi Davidian, who was dismissed from his role after the stabbing attack.
Banky's parents, Uri and Mika, delivered a haunting speech at the ceremony, in which they the surreal absurdity of discussing memories of a girl who was only 16.
"The sense of horror at this pointless thing, the enormous black hole opened in our lives, leaves us stunned and questioning how to go on from here," they said.
"From the first moments of this sad journey, we have spoken of our surprise at the powerful reactions to the incident, but even then we couldn't appreciate the scale. The incident brought thousands of people to our doorstep – people we knew before and new ones, anonymous people and public figures, from Israel and from abroad. President Reuven Rivlin met us and gave his condolences, and Knesset Chairman Yuli Edelstein is present here and we thank him.
"We have received condolences from the American, British, and French governments, from various organizations in Israel and the world and from individuals everywhere. And our private lives – which before seemed quiet and good – turned upside down," continued Shira Banki's parents.
"We could not and did not want to ignore the enormous shockwave caused by the incident," they said. "Therefore, and despite the size of today's event and the public and even official presence being unsuited to its character, we feel they are correct and necessary in order to emphasize the fact that our Shira was murdered as part of a battle over the character of public space in Israel.
"The public history of Israel has seen similar cases, when it seemed as they occurred that they could shock Israeli society to the core and finally lead to a brave confrontation of intolerance and refusal to accept the other," added Mika and Uri Banki. "Unfortunately, it seems that this never occurred and intolerance and hatred are thriving and sprouting weeds."
"It's been said every now and then in Israel that terrorists do not grow in a vacuum, but are encouraged to commit their attacks because of the atmosphere they live in. If there is a basis to this claim, then our Shira's murder was not committed in a vacuum but by those who grew, lived, and acted in a society that did not teach the difference between disagreement and the desire to make the other disappear.
Shira's parents recalled memories – how they would go on nature trips and build campfires, and how much she loved to swim. "And now we are laying down your gravestone," they said. "It's intolerable and incomprehensible. A gravestone that has the spirit of the desert, the boulders and stones of the Negev Highlands, the cisterns and bonfires. A gravestone with so much grief and memories. How can one even say memories concerning a girl who was not yet 16?!
"A newspaper headline caught our eyes – 'the death of a leader'," they continued. "We did not think of her in such terms. She is wonderful, exceptional, special, talented, intelligent, and more, but that conclusion, that title we had not formulated in our minds beforehand. However, once the words were written, they were suddenly so true and clear; they corresponded so well to what was said about her by all her friends. Even in our hearts we always felt she was leading, but as ordinary parents we were not looking to put crowns on her head.
"Who does not believe that his child is the best?"