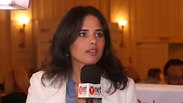 Justice Minister Ayelet Shaked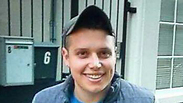 Israeli law students will now have to complete a two-year internship in order to become certified lawyers as part of new regulations announced by Justice Minister Ayelet Shaked on Tuesday.

The current requirement is of a one-year internship. The new regulations will come into effect for all students starting law studies this fall.

In her remarks at the annual conference of the Israel Bar Association, Shaked clarified that the process of being admitted to the bar would now take five years including studies.

"I decided to extend the length of the required internship period to two years believing that law students will be much better qualified and prepared to take their bar exam, and will have to show a great deal of dedication in order to become lawyers," Shaked said.

"This will lead to a decline in the number of lawyers, and an increase in their professional expertise," she concluded.

Ilan Bombach, who previously chaired the Tel Aviv district Bar Association, praised the decision, "This is great news for lawyers and their clients. The future lawyers will be much better equipped. Many employers don't want to hire the interns who only seek to complete the one-year requirement, because they deem it unwise to invest in them," he said.

"Anyone who only interned for one year becomes an unskilled lawyer. It's a good thing for the interns, because it is important to make sure the interns deal with actual legal work, and are not taken advantage of," he concluded.

Another lawyer, Ofer Bartal, also praised the decision, "It's been 15 years since I last hired an intern, and I only hire lawyers because interns stay for just one year."

According to him, "It takes about three-four months to teach them the basics, and six months later they are already taking the bar. It's not worth it for me to hire an intern. It's a waste of time, money, and only serves to distract me."

Bartal added that if the internship period is expanded to two years, he will begin hiring interns. According to him, "If an intern comes to work for me for two years, and I get a year and nine months of pure work from them, there is a better chance that I will hire them.

"The same holds true for all lawyers who don't belong to a large firm. In our line of work, experience is of the upmost importance, and two years is great experience for a young lawyer," he concluded.

Law students, however, reacted quite differently to the news. Or Gavish, who is about to start his law studies at Tel Aviv University in two weeks, admitted that he was completely surprised by the announcement. "I'm in shock, I didn't know about this before I applied, and I admit that I'm quite surprised," he said.

Gavish went on to say that, "On the one hand you are going to study an occupation in which the job market is flooded with applicants and very few job openings, and on the other hand the extension of the internship stage is infuriating."

"The internship period is difficult and tiring, and according to what I have heard, you become a type of 'modern slave,' while doing secretarial work for a meager salary," he added. "It's a cheap and efficient labor force, because without the firm's approval you can't become a lawyer."

With that said, Gavish believes that if Shaked's motives lie in the will to return the prestige to the profession, then he will thank her. "I worked really hard in order to get in to TAU and this won't stop me. Maybe we need to do something different in order to return the prestige to the profession, like raising the minimum scores for the bar exam," he concluded.